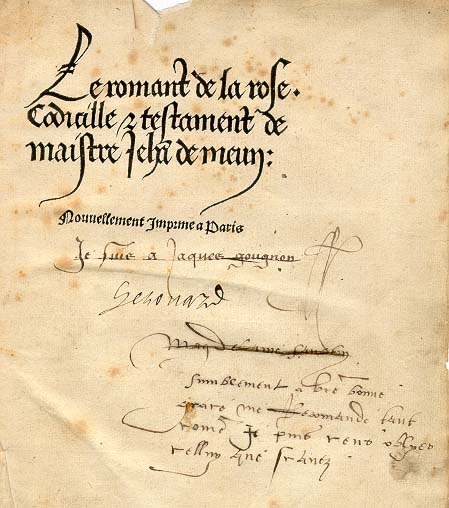 Title-Page, with ownership annotations
One of the most popular works of medieval French literature, Le Roman de la Rose survives today in some 300 manuscripts dating from the late 13th to early 16th century, and in numerous printed editions from the 15th and 16th centuries. Widely read throughout Europe, the poem influenced much of the literary output of the Middle Ages and was enjoyed by poets such as Chaucer, Gower, Dante and Petrarch,

Begun in c.1225-40 and completed by c.1270-7, the poem is an allegorical dream vision about love, in which a young man endeavours to possess the rosebud with which he has become enamoured. The text is attributed to two authors, its first 4,058 lines being the work of Guillaume de Lorris, and the remaining 18,000 lines composed by Jean de Meun, an early 14th century Parisian writer and intellectual. Written in Middle French in octosyllabic rhyming couplets, the poem is important for being the first example in French of both a sustained first-person narrative and of narrative allegory.