James VI obviously believed in the existence of witchcraft and took a personal interest in the story that these "witches" had conspired to kill him by magic but even he found the stories exaggerated as is shown when "his Maiestie saide they were all extreame lyars". He later changed his mind when Agnes Sampson took him aside and apparently told him the exact words of his conversation with his new wife on their wedding night. This was seen by the King as irrefutable proof that witchcraft had been performed against him.
Poor Doctor Fian was put to more torture but would confess nothing more even though his legs were totally crushed in the "bootes". The King and his Council then decided that he was to be made an example of to remayne a terrour to all others heereafter, that shall attempt to deale in the lyke wicked and ungodlye actions, as witchcraft, sorcery, conjuration and such lyke. Dr. Fian was burned at Castle Hill in Edinburgh in late January, 1591.
It is not recorded what happened to all the accused persons but certainly Agnes Sampson and others were condemned and burnt as witches. At the time Newes From Scotland was published they were still languishing in prison. King James VI was so concerned about the threat that witchcraft posed for himself and his country, that he undertook to study the subject in some depth and published his results in his book Daemonologie, published in 1597. On the death of Elizabeth I in 1603, he became King James I of England and ruled both countries jointly until his death in 1625. One of his first acts as king in England was to tighten the Witchcraft Act (1563). At that time in England, hanging was the punishment if it could be proved that use of witchcraft had caused death, but James changed the sentence to hanging for any form of witchcraft confessed or proved. Witchcraft trials continued unabated during his reign and only started to trail off in the early eighteenth century. The last recorded burning of a witch in Scotland took place in Sutherland in 1722.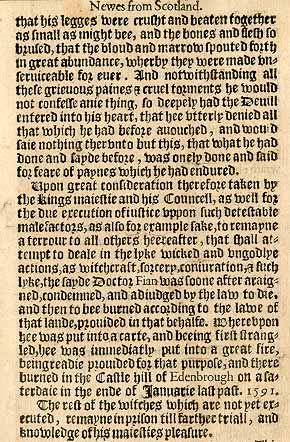 Dr Fian's sentence (folio C4r)