Rudolph Eric Raspe Descriptive Catalogue of A General Collection of Ancient and Modern Engraved Gems, Cameos as well as Intaglios, taken from the Most Celebrated Cabinets in Europe; and Cast in Coloured Pastes, White Enamel, and Sulphur by James Tassie 1791
Title-page.
James Tassie was one of the most successful of the Foulis Academy's pupils. He became renowned for modelling portrait medallions and the reproduction of antique gems. Rapse (1737-94), an archaeologist and author, compiled this two-volume catalogue, listing over 15,000 items, which served a dual purpose as a major reference work, and an advertisement for Tassie's work. The text is in English and French.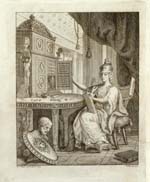 David Allan, frontispiece: aquatint
In addition to the frontispiece David Allan, Tassie's former fellow-pupil at the Foulis Academy, produced 57 plates with illustrations. This shows Minerva, as Goddess of Wisdom, about to examine a cabinet of antiquities Catherine the Great of Russia was Tassie's most famous patron and commissioned 12,000 of his 'gems'.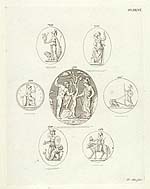 David Allan, plate xxvi
Tassie had access to over 500 collections of antique gems in Britain and on the Continent, including those of the Earl of Carlisle, the Countess of Hopetoun, and Cardinal Borgia in Rome. Allan illustrated specimens owned by Charles Townley, the famous collector of classical antiquities, and Cardinal Albani, among others.
Sp Coll e.10. 41, 42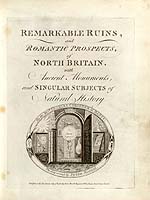 The Rev. Charles Cordiner of Banff Remarkable Ruins and Romantic Prospects, of North Britain, with Ancient Monuments and Singular Subjects of Natural History, 1788-95
Cordiner became the Episcopal minister in Banff, and wrote on the subject of antiquities. He was one of the few trained artists working in the northern Highlands in the late 18th century.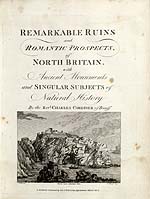 Title-page, volume 2.
Sp Coll BD5-d.13, 14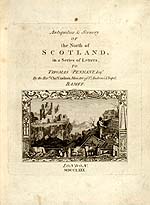 The Rev. Charles Cordiner, Antiquities and Scenery of the North of Scotland, 1780
Title-page.
The National Gallery of Scotland owns Cordiner's The Bridge of Alva, Duff House, Banffshire, gouache, 1774, and the Rock near Banff, watercolour, 1790.
Sp Coll Stone 1144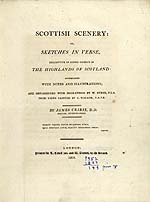 James Cririe, Scottish Scenery, or Sketches in Verse, descriptive of scenes chiefly in the Highlands of Scotland, 1803.
Title-page.
This book is illustrated by 20 engravings after paintings by George Walker, F.S.A., who was appointed Landscape Painter to the King. They include Edinburgh, Dunkeld, the Pass of Killicrankie, Taymouth, and Bothwell Castle. Apparently Walker envisaged these illustrations forming part of a gallery of Scottish landscapes.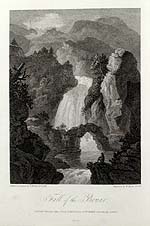 Illustration 'Fall of the Bruar' 1803.
Painted in crayons by George Walker, and engraved by W. Byrne.
Sp Coll Hepburn q35