Glasgow University Library's Special Collections Department owns Illustrated Letter Paper Comprising a Series of Views in Glasgow, a rare nineteenth-century publication featuring some of the city's landmark buildings, many of which no longer exist.
In June 1843 Allan and Ferguson, one of Glasgow's leading firms of lithographers, draughtsmen and engravers, advertised the publication of a new series of Views in Glasgow. They were 'Engraved on Steel, in the first style of art, from Original Drawings, executed expressly for this Work, and surrounded with beautiful Medallion Frame-work'. There were twenty plates printed in two parts. Each part sold for 2s. 6d. on proof paper, or 2d. per sheet on letter paper. The views were reproduced in James Pagan's Sketch of the History of Glasgow, 1847, with descriptions of the plates and two additional views.
Allan and Ferguson was established in 1835. David Allan (d.1875) had served his apprenticeship with James Miller, another leading Glasgow printer, and set up his own business in 1831. Four years later he formed a partnership with William Ferguson (d.1884), an engraver, and published Views of Glasgow and Neighbourhood, 1835. Allan lithographed the scenes and the text was written by John M. Leighton (fl. 1820s-1830s), who collaborated with Joseph Swan (1796-1872), the engraver and publisher, on several illustrated works.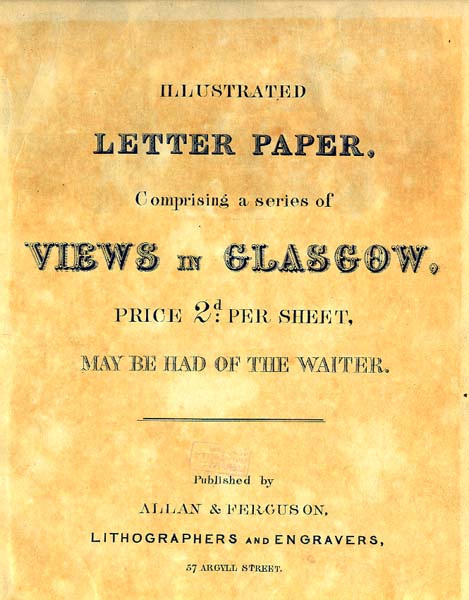 Title-page