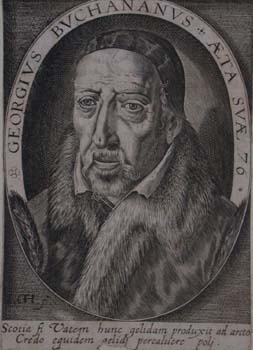 2006 is the five hundredth anniversary of the birth of George Buchanan, the outstanding Renaissance humanist and neo-Latin poet, and a key figure in the educational world in Scotland, France and Portugal. To mark this quincentennial, a conference on Buchanan is being organised by the Classics Department of Glasgow University: George Buchanan, poet and dramatist (26-29 July 2006).

This virtual exhibition of Buchanan related material held by Glasgow University Library's Special Collections has been mounted to coincide with the events celebrating the quincentennial. It is based on a previous exhibition, organised in 1982, for the quatercentenary of Buchanan's death. It is introduced by Dr John Durkan (former senior research fellow in Scottish History and author of The Bibliography of George Buchanan) and examines Buchanan's life and the many facets of his varied career, exploring the books that he wrote and influenced, and those that he owned.

Go to the introduction to Buchanan by Dr Durkan, or go to the virtual exhibition of books.