Coming Back: How Vox Liminis uses creative responses to the criminal justice system to build community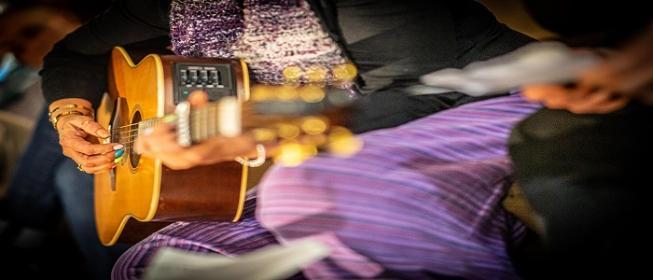 (Photo credit: Sandy Butler)
Vox Liminis is a Glasgow based community organisation using creative practices to think differently about the criminal justice system. Professor Anne Kerr meets Fergus, Alison and Iain to find out more.
Episode Description
How do you build community after the criminal justice system has removed you from society to serve a prison sentence?
Episode four of Recovering Community explores the work of Vox Liminis, a unique organisation, set up to find creative answers to questions about crime, punishment, reintegration, and community.
Vox is for people who have all kinds of experiences of criminal justice; from children with parents in prison, to academic researchers and social workers. It hosts a number of projects from its base in Glasgow's Gallowgate, and in prisons across Scotland.
Professor Anne Kerr meets three lynchpins of the Vox community; Professor Fergus McNeill, Alison Urie, and Iain, to learn about the ways that creative work, embracing difference, and mutual support, build the bonds of community, and the foundations for a life beyond prison.
Learn more about Vox Liminis and listen to their latest podcast 'The Art of Bridging'.