What our students say
Thinking of studying for a postgraduate degree in our School?
Have a read at what some of our former PGT students had to say about their experiences here.
Rong Cai, MSc Real Estate - 2019-20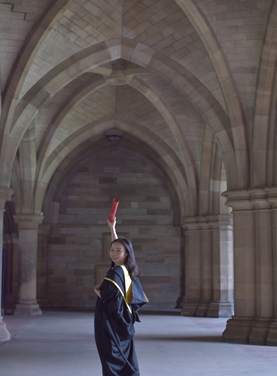 What did you enjoy most about your programme?
What I enjoyed most is the programme emphasises the importance of critical thinking ability in learning. The programme offers a variety of topics and I was free to choose the topics which I am interested in, then establish my own perspective about them and have indepth discussions, which is often reflected in the final evaluation of the course. Also, the teaching staff are knowledgeable and passionate about their fields and will assist you as much as they can in the study process.
What did you like about the University of Glasgow?
The campus is very beautiful and I imagine walking through 'Hogwarts', like a wizard learning 'magic' here. There is a large and morden library with a good learning atmosphere and enormous literacy sources for students. Also, I made a lot of friends here, coming from different countries, which is delightful.
How do you feel the programme will help you in your career?
It provided a multi-dimensional professional framework, and through which I can re-look at real estate finance, development process, appraisal and market research from a global perspective.
Annika Sinner, MSc Political Communication, 2018
Why did you choose your programme?
I first visited Glasgow as a tourist in 2014 and immediately fell in love with the city and its rich history of reinventing itself. There are constantly new things to do and discover: from underground music gigs to world class art galleries – Glasgow really has it all and the University of Glasgow is very much at the centre of it. Besides the beautiful campus and its reputation for good education, I was attracted by the nature of the programme itself. Having been active in political campaigning and journalism, the course seemed like a natural choice for me. I have not regretted it.
What did you enjoy most about the programme?
The size of the course was rather small which allowed for active discussions and seminars led by the students themselves rather than the lecturers. Courses were often combined with practical tasks - a highlight was definitely former White House Deputy Communications Director Liz Allen visiting for a workshop on strategic communication planning. However, there were also close links to Scottish politics and media with visits from BBC journalists or advisors to the Scottish Government.
While the programme was quite intense, the number of classes taken each semester was low which allowed for many activities outside of uni. I worked as a Public Affairs Volunteer for the Scottish Fair Trade Forum for six months and was able to combine the practical experience I gained there with my academic work by writing my Master's thesis on Fair Trade commercialisation. Collaborating on research with organisations outside the university was encouraged and supported which allowed for valuable insights for both me and the Fair Trade Forum.
What are you doing now?
Although I have moved back to Germany to work as a journalist for a newspaper, Glasgow will forever hold a special place in my heart and I can highly recommend this programme to anyone interested in a career in politics or media.
Adriana Thomas, MSc Political Communication, 2018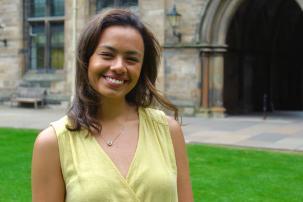 Why did you choose your programme?
I was interested in this programme because of its interdisciplinary approach which meant studying a wide range of themes such as social media, elections, media and war. I also chose it because the University of Glasgow is a world-class university and it looks like the most magical place in the world.
What did you enjoy most about the programme?
I enjoyed many things from my time at the University such as learning about global politics and communication with people from all around the globe and discussing political events in real-time with top professors. But what I enjoyed most was my dissertation. It put into perspective what I had learned throughout the year and how to actually apply it to a topic that I was interested in, which is key to your career and professional life.
What did you like about the city of Glasgow?
Friendly locals, great public transport system, the breath-taking Kelvingrove Park, and plenty of entertainment and travel options make Glasgow an ideal city for any student (and compensate for the weather!). I am proud to call this city my second home and a place I will always keep close to my heart.
What are you doing now?
I now work at a global risk consultancy firm and I am happy to say that what I learned during my time at the University of Glasgow has made me stand out in the very competitive world we live in. Doing my postgraduate studies at the University was not only an amazing personal experience but also a professionally rewarding opportunity.
Alexandra Damianlieva, Austria: MSc Global Economy - 2018 - 19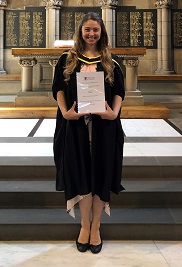 Undertaking the Global Economy degree has been the best decision I have made. The degree was very informative and well structured. The staff were incredible, every lecturer was passionate about what they taught which transferred to us. I came to Glasgow with a set idea about my dissertation but changed it for a subject I was taught about it so enthusiastically. The University really tried its best to make our experience as great as possible by frequent student-staff liaisons and embracing student input and feedback.

Glasgow itself has become a second home that I miss every day now that I have moved on to my first job abroad. I will hold the memories I have made here dear to my heart and am happy to have met such a diverse group of people in my degree.
Monica Pons Hernandez, MSc Transnational Crime, Justice and Security - 2017-19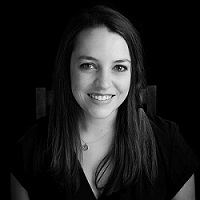 Why did you choose the program?
Studying the undergraduate in criminology in Barcelona I developed an interest in the aspect of transnationality of some crimes, and more specifically on environmental crimes. So, when I moved to the UK in 2015 I started to look for a master's program in the country able to satisfy my interests. When I found the MSc Transnational Crime, Justice and Security at the University of Glasgow I knew that it was the most suitable program to achieve what I was looking for. I found that the program was specific enough to feel that you were narrowing down your career but at the same time was reflecting on a variety of topics, which included the study of environmental crimes and harms.
Also, after focusing my attention to this program I went to the open day and I automatically felt in love with Glasgow and the campus. So, to me, this MSc was the perfect combination of a program of my interest and a city and campus that I knew I would be able to enjoy and feel like home.
What was the best thing about the program?
Once I started the course my expectations were met by and large. I enjoyed the program, the lectures and the installations. However, I think that the best thing about the program itself is the learning method. The reading lists provided by our lecturers were inspiring, and gave you the chance to explore in depth the subject by checking out the work of the authors and papers they thought were relevant to the moment and topic. By doing so, the program gives you the opportunity to learn as much as you want about a specific area of interest, subject or the program in general. And also, all of this could be reflected at the final essay, where one has the freedom to select and engage deeply in the topic that you find most interesting.
What are you doing now?
Before finishing the MSc I had the opportunity to work as a research assistant in another UK university and I could publish a paper related to environmental harms. As I developed a keen interest in research and academia I am currently applying for a PhD position to start next year and I keep doing sporadic work as a research assistant.
Any advice for new students?
To the new students, I would recommend they get involved in the university, to get to know the department and its lecturers. I felt really supported by all of them, and they are always willing to listen and help. I had the opportunity to organize along with two of my classmates a student seminar series and as soon as we came up with the idea the department gave us all the support (and budget) that they could offer. So, my advice would be, engage on what you are doing, don't look at the program as a bunch of essays that you have to pass to get a certificate, if you get involved with what is going on at the department they are going to make you feel welcome. The program is run by wonderful academics but they are also wonderful people willing to support you at every stage.
Erik Kruse, MSc International Relations - 2018-19
Having studied Politics at Glasgow for my undergrad degree I already knew the quality of the department and university overall making it an obvious choice for me to continue my studies there. I love the city as well for all the bars, music and food scenes and the possibility of being able to spend more time there was a big part of my consideration to go back. The programme itself offered a very wide variety of courses allowing me to go in depth into areas of study I hadn't necessarily considered before.
The study trip to Brussels was a definite highlight and has led directly to me embarking on an internship there for a branch of the Scottish Government. I continue to recommend the University of Glasgow to people. To get such a good university in such a fun place to live is all you can ask for.
Claire Pollock, MSc City Planning - 2018-19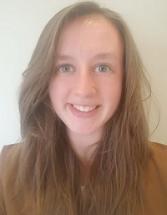 Why did you choose your programme of study at the University of Glasgow?
The course is a great opportunity to provide yourself with some confidence in an area of work and research. Planning can be so diverse and the course provides you with the depth of information and resources needed to allow you to find your own niche and explore what you feel passionate about.
What was one of the best things about the programme?
Lectures are passionate about their fields and will assist you as much as they can, and you will also meet a lot of people from the professional world during the course and through networking events. If you show excitement and passion for what you are doing, professionals in the industry are extremely willing to help you and will be happy to take time out of their days to talk to you and share their knowledge.
What advice do you have for new students?
Really take advantage of the resources around you. Your biggest resource throughout the course, however, will be the people your fellow colleagues on the course.
Don't be afraid to ask each other questions and share your understandings, it is the best way - next to reading - for you to really learn the content and understand what is expected of you. This will also prepare you for a similar working environment were you will be expected to collaborate on a daily basis."
Finally, for many of you wishing to pursue public or private sector careers this might be your last opportunity to engage with academic researching. Remember that and enjoy it. The grades are important, of course, but really try to enjoy playing with the content you are given. Explore which theories you like and why; be creative with how you apply them; begin to shape your own values as a professional and enjoy the final year of learning.
Tianyu Sun, MSc International Real Estate & Management - 2018-19
Why did you choose your programme of study at the University of Glasgow?
I have been working in the real estate industry for five years, but the knowledge learned from my work is fragmented and not systematic. So, I chose to study real estate related majors. The British postgraduate system is only one year, which is the core reason why I chose to study in the UK. In many universities that offer real estate majors, I ruled out the design direction of the major; in the remaining universities, University of Glasgow has a good reputation and a high ranking, so I chose here.
What did you enjoy most about your programme of study?
The course helped me to establish the Western definitions and concepts of the real estate industry and brought me a new perspective.
How is/was it distinctive from other courses elsewhere?
I have only experienced Chinese style and University of Glasgow style. These two kinds of teaching are not very comparative; if I have to mention a little, Glasgow University pays more attention to self-directed learning.
What did you like about Glasgow?
Here I want to talk about two aspects. A few days ago, I said this on social media: Choosing Glasgow to study abroad is the most correct decision.
Every holiday, returning here after traveling around Europe, makes me feel soothed and relaxed. I think Glasgow is most attractive to me for its beautiful scenery, lovely residents, clean streets and a refreshing climate (love raining and chill days).
Would you recommend the University of Glasgow and the course that you chose? Why?
I would like to. Establishing new cognitive, systematic learning, and broadening horizons will greatly help one's future development, and that's one can get from here.
How do you feel your programme at the University of Glasgow helped you/will help you in your career?
I can compare the development path of Chinese and Western industries with the internal logic of business to better understand the policies under the Chinese market and the future trends of the industry.
Ian Scott, MSc City Planning and Real Estate Development - 2018-19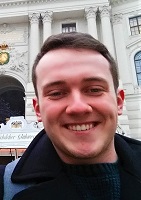 Why did you choose your programme of study at the University of Glasgow?

Pursuing my longstanding interest in how our built environments are shaped, I joined the MSc City Planning and Real Estate Development degree programme after working for two years as a planning officer at Aberdeenshire Council, before which I gained a MA Geography degree. Whilst working, I decided to carry out further study and my wish to stay in Scotland led me to the joint RTPI-RICS accredited degree offered by the University of Glasgow. I knew this degree would provide an opportunity to become both a chartered planner and chartered surveyor, which is an unusual and much sought-after quality among planning professionals in Scotland. Also, several former colleagues and undergraduate classmates attested to the quality of Urban Studies degrees on offer at the University of Glasgow, having completed degrees themselves. From then my decision was made, I successfully applied, and I was fortunate enough to be offered a Scottish Funding Council scholarship, which assured me that I had made the right decision.
What was one of the best things about the programme?
Besides making new lifelong friends, my highlight of the degree was learning about planning and development theory and practice in a fascinating context – Glasgow, a well-known site of post-industrial regeneration efforts. Each course closely related wider theory and practice to real-world examples, including observations of the city around us, providing an ideal learning environment whilst also providing a clear basis for understanding a variety of other urban environments. Also, the majority of courses were assessed through the application of things learned in class, comprising the preparation of reports for "clients" in various scenarios, ensuring students would be more prepared for work. Also, the learning material was designed to prepare students for multidisciplinary working, which is increasingly expected of both planners and surveyors.
What are you doing now?
Having graduated in December 2019, I now work as a graduate planning consultant in Aberdeen for Ryden, a firm specialising in commercial property which publishes the Scottish Property Review. I am grateful for what I have learned and would certainly recommend this degree to others. WhI am grateful for what I have learned and would certainly recommend this degree to others. Whilst those interested should be prepared for a challenge, I just completed that challenge and it has rewarded me well.
Ndeye Borso Tall, MSc Equality & Human Rights - 2017-18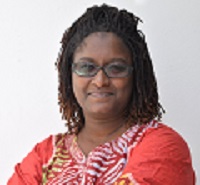 Why did you choose your programme of study at the University of Glasgow?
I am a 35-year-old woman from Senegal, a social worker and a human rights activist specialized in the rights of the child. My experiences with various communities in Senegal and abroad (USA, France, Canada, Korea) have taught me that with a better understanding of human rights principles and synergic cooperation, we can reach the highest attainable standards in Education, thus in sustainable development, peace-building and tackling issues related to violence against youth altogether, women and girls.
Since 2012, my experience as the founder of the Young Advocates for Human Rights network has enabled me to work in synergy with international organizations, diplomatic representations, Senegal's public service, civil society and communities, to develop action for the protection of human rights and the involvement of the youth in decision making processes. Its acronym, "YAHR", means "Education" in my native language, Wolof. At YAHR, our aim is to build bridges between young people aged 6-35 and develop in them a strong sense of human rights awareness and civic engagement. I chose to pursue the MSc of Equality & Human Rights to reinforce acquired knowledge in Human Rights and build a stronger theory-based approach to the issues discussed during the year. The University of Glasgow offered a sociology-based course in human rights and this was most compatible with my background in applied social work and education.
What did you enjoy most about your programme of study?
I enjoyed both its openness to theory and the sharing of past experiences. This course additionally gave me exposure to various articles and opinions on sensitive issues, all the while discussing standpoints from African contexts.
In addition, the courses were very compatible with extracurricular activities I undertook as a Chevening scholar. In February 2018, I was selected by the Foreign and Commonwealth Office to join international students, global advocates, charity leaders, academics, policy influencers and the Kaleidoscope Trust to take part in a conference 'Freedom & Sexuality: LGBTQI+ Rights in the Commonwealth' at the Cumberland Lodge in London. I also had the chance to speak about Africa's youths as one of the 08 speakers at this year's TEDx event organized the UoG Business School.
The sociology seminars were excellent platforms to meet and discuss with other passionate students and faculty about human rights in the UK and across the globe. Professors also encouraged my great interest in networking, which facilitated my participation in various conferences such as those on women's rights at the University of Westminster and the University of Leeds. The School of Social & Political Sciences also selected me to participate in the first Common Purpose Leadership training and all these above mentioned opportunities were facilitated by my enrollment in this course.
How is/was it distinctive from other courses elsewhere?
Most courses in human rights require a law based knowledge and this one only offered me the chance to upgrade my undergraduate degree in social work from Senegal.
What did you like about Glasgow?
My beloved Glasgow offered me the great chance to live one full year with beautiful minds, experience unique opportunities and fulfill my dream to witness unique sceneries, surely some of the most beautiful in the world. Above all, my dream came true to make friends with people who wear kilts! Scotland is known for its cultural conservatism and studying in an old university is a true honor.
Would you recommend the University of Glasgow and the course that you chose? Why?
Of course I would. The University of Glasgow was built in 1451, welcomed learners who became world leaders and which continue to offer quality education. I was the only student from Senegal in 2017-2018. I would highly recommend fellow citizens, as well as all those from Francophone Africa, join the University, one of the very best in the United Kingdom.
How do you feel your programme at the University of Glasgow helped you/will help you in your career?
This program has a direct link to my academic background in social work and comes right on time to add more credibility to my future endeavors in activism, higher education and to develop the Young Advocates for Human Rights network.
Anthony Tjahyono, MSc International Real Estate & Management - 2017-18
Why did you decide to study at the University of Glasgow?
Firstly, the University of Glasgow offered a postgraduate programme that I really wanted to do, International Real Estate & Management. There are not many universities in the world which offer a Real Estate degree. Secondly, the University is a member of the Russell Group, which shows that it's a world-leading university. Thirdly, because of the campus which is surrounded by amazing museums, galleries, buildings and a park with Victorian style architecture.
What made you choose your programme of study?
I choose my programme because real estate is one of the most important things in the developing countries. I live in a developing country which has a lot of problems arising from 'real estate'. For example, we have problems on providing housing for an excessive population, problems on the shortage of office space, problems on the environment coming from property development, and many more. I thought I would try and learn as much as I could and bring that knowledge back to my country.
What did you like most about your programme?
It surprised me at first because the classes are more discussion-based than where I am from. For me, it was a really good experience because we can learn about a lot of the problems from students who come from many different countries, and potential solutions to those problems. Also, this meant my English improved every day. The lecturers are well connected to the students and they do not hesitate to answer any questions even outside of study/work time. That was the thing I liked the most because in my country, the lecturers prefer to limit the relationship between themselves and students, and rarely answer questions from students.
What are you doing now and how did your time at Glasgow help prepare you for your career?
Nowadays, I work with my family to run a small-medium sized property development company in my city. We just started it when I returned from Glasgow. Learning from the best university like the University of Glasgow, helped me a lot in my career. If I did not take my Msc at the University of Glasgow, my family and I would never have started a property business.
How did you enjoy living in Glasgow and what would you recommend to other international students?
Glasgow is one of the UK's largest cities and home to several museums, galleries and football clubs. Personally, I love being in Glasgow compared to London. Glasgow has its own beauty (Buchanan Street to be specific), and the best thing is the people. The people in Glasgow are very kind and friendly. It was a beautiful time in my live being in Glasgow for 1.5 years. My only recommendation to other international students, specifically who come from Indonesia (or South East Asia) is to prepare well because it's going to be really cold in Glasgow. We never have winter in our country, so make sure you bring a good jacket or coat before you start your journey at the University of Glasgow.
Ross Fleming MSc Public Policy 2010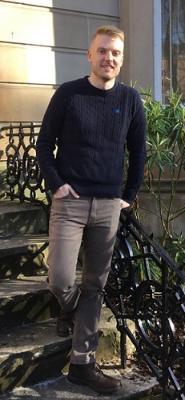 Why did you choose the programme?
I did a lot of work in my Geography undergraduate degree on political influences in the climate science sphere and the roles played in the public policy sphere and how they interact with political activism and political guidance. It seeemed a natural progression from my undergraduate degree to do the Public Policy programme, especially as I had already built a strong community at Glasgow.
I also did a lot of research on the teaching staff and the support available within Urban Studies and was glad to see that many staff had several peer reviewed publications in the Urban Studies field. Also, there was cross collaboration with staff in Geography so it was a good fit.
What was the best thing about the programme?
There were several great things about the programme such as the small class size so everyone got individual attention from staff, the 50/50 gender balance, and the programme was built on independent study which was important to me. The staff treated students as equals and allowed us to develop and make arguments, and the provided great 1-2-1 feedback. Three words to sum it up are interactive, accommodating, and friendly.
Any advice for new students?
Join a group or society and find your community, don't think university is just about doing the work, and develop personal relationships, including those with staff. It's also important to think about your health and wellbeing and ask for help if needed.