Girlhood Gang host 'Girling Feminism' conference
Issued: Fri, 07 Jun 2019 10:49:00 BST
Amanda Ptolomey (School of Social & Political Sciences) and Hannah Walters (School of Education), both PhD researchers focusing on the lives, identities and experiences of young women and girls, hosted 'Girling Feminism: Towards a feminist theory of girlhood' last month. As feminist collective, Girlhood Gang, they designed the event to both harness the current energy around girls studies in the academy, which has gained momentum over the past few years, while encouraging speakers to consider how girlhood is and can be theorised sociologically.

The event represented both the rich history and contemporary cutting edge of girl studies, with keynotes from Professor Angela McRobbie (Goldsmiths), Professor Jessica Ringrose (UCL), and the University of Glasgow's own Professor Lisa McDaid, who provided an inspiring and optimistic opening plenary. The conference provided a snapshot of the current state of contemporary girl studies, touching on themes of violence, schooling, media, activism, subcultures, motherhood, policy and practice.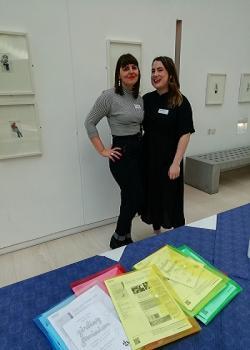 Amanda and Hannah established their feminist collective, Girlhood Gang, in 2017 (with Donna Maclellan). They have been part of a number of girl-focused events, including their inaugural conference in 2018, Young Women and Girls in Contemporary Scotland and Beyond, and a zine-making and discussion workshop around women's representations in different media with local girls from Glasgow. They have introduced film screenings to school groups, run a Twitter campaign for International Day of the Girl, and created a short film discussing girls' invisibility in museums. To date, they have worked with or received funding from the MacFie Bequest, the ESRC, the University of Glasgow's Sociology Small Grant Scheme, SSCJR, the University of Glasgow School of Education, CR&DALL, the BSA and Glasgow Film Theatre.

For more coverage of the Girling Feminism event, check out the Wakelet that Amanda made for the event.
---