REPR Alumni Association celebrates 2nd anniversary
REPR Alumni Association celebrates 2nd anniversary
Issued: Fri, 13 May 2011 16:35:00 BST
The Real Estate, Planning and Regeneration (REPR) Alumni Association was formerly launched two years ago to build and maintain close links between graduates and students from the Real Estate, Planning and Regeneration (REPR) MSc Programme at the University of Graduates, and to develop the outreach and professional development of its graduates. Planning and Real Estate education at Masters level was launched by the University in 2006, reflecting the need for high quality and professionally engaged courses in the west of Scotland.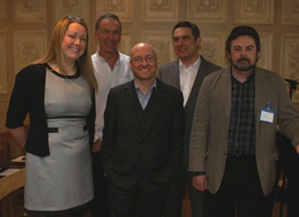 To celebrate their second anniversary, graduates and students organised a public event at the Corinthian Club in Glasgow city centre on Thursday 14th April. The event, sponsored by Glasgow based companies CoStar, Kevin Murray Associates and ISIS Waterfront Regeneration, featured lectures from two high-profile speakers. Patrick Harvie, co-convenor of the Scottish Green Party, and Chris Brown, Chief Executive of Igloo Regeneration addressed an audience of University students, recent graduates and established planning, real estate and regeneration professionals on sustainability and sustainable development issues.
Dr Allison Orr, the REPR MSc Programme Director, said "This was an excellent event led by our current students and graduates. The inspiring speakers encouraged participants to reflect on one of the greatest challenge that face society, stimulating interesting discussion on carbon emission reduction and the possible way forward for the planning and real estate industries. The high turn-out by graduates, students and local practitioners alike demonstrates the effectiveness of the Alumni Association in building bridges between the professions, and fostering closer interaction between our student, graduate and professional networks."
For more information on the MSc Programme in Real Estate, Planning and Regeneration, visit the REPR website.
---