IGR celebrates successful launch of LISA Pathfinder
IGR celebrates successful launch of LISA Pathfinder
Issued: Thu, 03 Dec 2015 19:52:00 GMT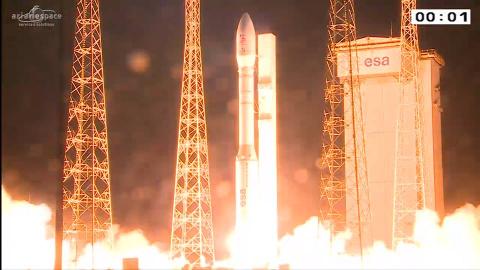 ‌Staff and students in the School's Institute for Gravitational Research are celebrating the successful launch of the European Space Agency's LISA Pathfinder spacecraft.
LISA Pathfinder lifted off early on Thursday December 3, on a Vega rocket from Europe's spaceport in Kourou, French Guiana, on its way to demonstrate technology for observing gravitational waves from space. At the satellite's core is a pair of identical 46 mm gold–platinum cubes separated by 38 cm, which will be isolated from all external and internal forces acting on them except one: gravity.
The launch marks the end of a decade of work for the team from the IGR, led by Dr Harry Ward, who helped develop the LISA Pathfinder's incredibly sensitive optical bench. The bench incorporates a laser interferometer, developed, built and tested by the University's team, which is capable of detecting changes in distance between the test masses as small as 10 picometres, or one hundred millionth of a millimetre.
---