2015 CESRA radio summer school
2015 CESRA radio summer school
Issued: Mon, 24 Aug 2015 15:11:00 BST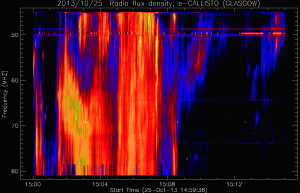 Glasgow University is hosting the 2015 CESRA radio summer school on the 24-28th August 2015. The Glasgow CESRA Summer School 2015 is a chance for students and early career researchers to learn about the exciting world of solar radio physics.
http://www.astro.gla.ac.uk/cesra2015/
The school, open to solar radio physicists including PhD students and early career researchers, attracted attendees
from 12 countries. The school will cover the essential elements of theory, modelling and data analysis and will feature lectures and tutorials.
---