Young researcher of the month
Our Young Researcher of the Month is Paula Sweeten. Paula is currently a PhD student in the Cell Engineering Group, she recently won joint 1st in the MVLS 3 Minute Thesis heats!
‌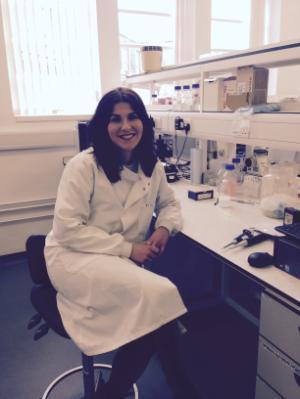 About my research
The focus of my research is to use synthetic polymer PolyEthyl Acrylate (PEA) as a surface on which I can grow skeletal/mesenchymal and blood/haematopoietic stem cells, in a bid to create a similar microenvironment to the bone marrow niche. These polymers have been shown to have the capacity to regulate differentiation and proliferation of mesenchymal stem cells (MSCs), and it is known that MSCs can, in turn, regulate the behavior of haematopoietic stem cells (HSCs). Thus, my aim is to use these polymers as foundations for developing a system that can support the culture of HSCs.
I chose this project primarily because I have a profound interest in cell engineering and in cancer research, and the Centre for Cell Engineering (CCE) has a great collaborative atmosphere, which I really like. I also believe that this project is the foundational work for developing a system that allows us to culture blood stem cells in the lab, and this could help us to form banks of healthy HSCs, which could later be used to improve chemotherapeutic treatments, by facilitating immune system regeneration after chemotherapy.
I am really passionate about my PhD project, and also about communicating with the general public. Since becoming more involved in academic science, it has become apparent to me how curious everyone in the public is, from my 11 year old nephew to my 78 year old gran, about what we do, and so I have found communicating with the public to be really rewarding. Since beginning my PhD, I have given a talk at Explorathon, started a website and social media platform for the Centre for Cell Engineering with some colleagues, written blog articles for our CCE blog, written for Glasgow City of Science, and most recently have been really fortunate to have won the 3 Minute Thesis (3MT) competition for the univeristy's school of Medical, Veterinary and Life Sciences. Although participating in these events gives you a certain sense of achievement, I think doing public engagement and taking part in events is important for grounding yourself during your PhD, and reminding yourself why you get out of bed in the morning and spend days on end looking down microscopes.
About me
After losing my dad last year to cancer, my interest in cancer research has extended much further than the lab – I am now training with my friend and fellow PhD student, Ricky Unadkat, to run the Edinburgh Marathon this year on the Sunday the 29th of May, in a bid to raise some money for a small, but very deserving charity - The Bone Cancer Research Trust (BCRT). We've been working hard fundraising at CCE, and are so grateful for every pound we get! I'm also working with the Create and Facilitate Group at Maggie's (a fantastic charity supporting people affected by cancer) to organise their Glasgow Culture Crawl 2016. Although this is keeping me fairly busy, I also play piano and have recently been appointed treasurer of Glasgow Piano City, a rapidly-growing group of musicians who are involved in supporting music culture in Glasgow. It's with this group that I'm hoping to dot pianos around the city for the Maggie's culture walk, play for a while and also get other people playing to support this great cause. My hope is also to get the university and a few other venues around Glasgow involved so we can raise as much money as possible.
https://www.justgiving.com/PaulaandRicky
https://twitter.com/paulasweeten
http://www.cceuog.co.uk
http://www.glasgowpianocity.org
https://www.maggiescentres.org/culturecrawl/