Language Resource Library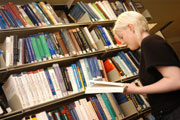 The Language Resource Library supports language learning and teaching within the University. Its facilities are available free to all staff and matriculated students. We specialise in languages taught by the School of Modern Languages and Cultures, Celtic and English as a Foreign Language:
CATALAN CZECH FRENCH ENGLISH GERMAN IRISH ITALIAN POLISH PORTUGUESE RUSSIAN SCOTS GAELIC SPANISH
There is also material in over 30 other languages, ranging from Albanian to Xhosa. The Library is located on Level 1 of the Hetherington Building. See below for further information.
Language Resource Library
Opening Hours
Opening Hours
| 2019 | Monday - Thursday | Friday |
| --- | --- | --- |
| 16-20 September | 09:00 - 16:45 | 09:00-16:45 |
| 23 September - 20 December | 09:00-20:00 | 09:00-16:45 |
| 2020 | Monday - Thursday | Friday |
| --- | --- | --- |
| 6 - 10 January | 09:00-16:45 | 09:00-16:45 |
| 13 January - 27 March | 09:00-20:00 | 09:00-16:45 |
| 30 March - 17 April | 09:00-16:45 | 09:00-16:45 |
| 20 April - 22 May | 09:00-20:00 | 09:00-16:45 |
| 26 May - 18 September | 9:00-16:45 | 9:00 - 16:45 |
Holidays
The library will be closed on the following dates:
Christmas: 23 December - 3 January
Easter: 10 April and 13 April
May Day: 8 May
Spring Bank Holiday: 25 May
Glasgow Fair Monday: 20 July
Membership
Access to the library is free to:
all matriculated students
students taking language courses through Centre for Open Studies
University staff
Recent graduates of University of Glasgow (within the last 12 months) may join for £20.00 on production of their General Council membership.
Members of the following groups do not have library access and are welcome to join as external members:
External Membership Fees
| | |
| --- | --- |
| 12 months | £45.00 |
| renewal (12 months) | £35.00 |
| 4 months | £25.00 |
To apply for membership please: complete the Membership Form (see below) and bring it to the Library (alternatively, we can provide you with a form in the Library to complete). Payment may be made by cash, cheque or by credit/debit card. Please bring proof of your current address e.g. bank statement, utility bill, lease agreement. Library cards are normally ready within two working days.
Borrowing
Borrowing
To borrow material from the Library:
Take it to the Library desk along with your student card, or
Use the self-issue machine near the Library door
Most Library items are issued for two weeks (14 days) and can be renewed up to 3 times (unless requested by another reader).
Reservations
You can reserve items that are currently on loan to another reader. We will email you when the item is ready for you to collect - just ask for details.
Renewing
You can renew material from the Library:
In person, at the Language Resource Library or University Library using your student card. It is not necessary to bring the loan items with you.
At any computer terminal www.lib.gla.ac.uk/ log-on to your Library Account and follow instructions
Mobile Quicksearch from your smartphone or tablet using: m.lib.gla.ac.uk. Select My Account and login with your name and barcode (see YouTube video http://youtu.be/wDRI_WzUm4k)
By email: lc-librarian@arts.gla.ac.uk, provide your name and details of the items to be renewed. You will receive an email confirming the renewal
By telephone: phone the Library (0141) 330 4117 and we will confirm renewal of your loans. Please do not leave a message as we may not receive your call.
Contact the University Library on 0141 330 6704. Staff services are available Monday - Friday 09:00 - 17:55 and 13:00 - 16:55 at weekends during semester.
Returns
If the Language Resource Library desk is unattended you can return items:
In the return bin in the entrance of the Hetherington Building
To the University Library desk
University Library return bin
Do not leave items unattended on the Library counter please.
Fines
Items returned late will incur a charge. At present 5p per item per day, rising to 20p per day after 7 days. Shorts loans are charged at 50p per hour. Remember you can renew your Library loans to stop fines accumulating. Library fines can be paid at the desk in the Language Resource Library. A charge of £25.00 will be made if you write in or deface any books.
Resources
The library stocks a wide range of material to support language learning, including:
Courses - from beginner to advanced
Grammar books
Dictionaries
IELTS preparation material

Talking Books - graded reader + CD (Catalan, English, French, German, Italian, Portuguese, Russian & Spanish)
Films and documentaries
Newspapers and magazines

Finding resources: All resources can be located via the University Library www.lib.gla.ac.uk. The library staff will be happy to help you.
Viewing Room
The Library Viewing Room offers the following facilities:
Overseas satellite channels
DVD & VHS players
PCs for language learning, CD-ROMs and e-workbooks (headphones are supplied at each screen)
It is not necessary to book any equipment in advance.
Screening Room
Comfortably seating 10 people our soundproof screening room can be booked for viewing films, discussion groups or meetings. To book, e-mail arts-languages@glasgow.ac.uk or visit the SMLC Admin Hub.
Wifi
The Library is a Wi-Fi hotspot and you are welcome to use your laptop. To connect:
Notes to Users
To allow all users to work, please:
switch off your mobile phones
if you want to talk, use the student common room on Level 1 of the Hetherington Building
To protect our material and electrical equipment (and yourselves!):
do not eat or drink (although bottled water is allowed)
do not write in any books: if you do you will be charged for a replacement; if you find writing in any item you have borrowed, show the librarian as soon as you borrow it.
Contact us
email: lc-librarian@arts.gla.ac.uk

telephone: (0141) 330 4117

address:

Language Resource Library
Hetherington Building
Bute Gardens
Glasgow G12 8RS

Library Staff

Fionna Black: Librarian
Guy Veale: Library Assistant