Dr Sofie Spatharis
Lecturer (Life Sciences Animal Biology)
Associate (Institute of Biodiversity Animal Health & Comparative Medicine)
telephone: 0141 330 3560
email: Sofie.Spatharis@glasgow.ac.uk
https://orcid.org/0000-0003-1030-9821
Research interests
My research is focused on understanding the ecological processes that shape marine communities and sustain their diversity and productivity at both local (patch) and regional (metacommunity) scales. I approach these research questions using numerical modelling, laboratory experimentations and field monitoring. Other research interests include the study of dynamics of harmful algal blooms and the assessment of the ecological status of coastal waters.
Grants
Grants and Awards listed are those received whilst working with the University of Glasgow.
A.G.Leventis Foundation Scholarship - E.Christoforou
A.G. Leventis Foundation
2018 - 2019

Teaching
I am coordinating Level 3 of the "Zoology" and "Marine and Freshwater Biology" degrees, School of Life Sciences. Across all levels I teach the following courses: "Understanding your Data", "Marine and Freshwater Ecosystems", "Ecology and Conservation", "Environmental Biology", and "Invertebrates".
Publications
Number of items: 32.
2018
2017
2016
2015
2014
2013
2012
2011
2010
2009
2008
2007
2006
2005
This list was generated on Mon May 20 19:13:48 2019 BST.
Number of items: 32.
Articles
Conference Proceedings
This list was generated on Mon May 20 19:13:48 2019 BST.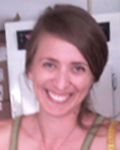 School of Life Sciences, Graham Kerr Building, Office 515,