Dr Chris McInerny
The role of cell and life cycle specific transcription in fission yeast.
Chris's area of research focuses on the role of gene expression in controlling progression through cell division cycle, using the fission yeast Schizosaccharomyces pombe as a model organism. He is particularly interested in the transcription mechanisms that control the start of S-phase, and the end of the cell cycle at the M-G1 interval.
The fission yeast cell division cycle
Fission yeast has a typical eukaryotic cell cycle with discrete and consecutive phases: G1, S, G2 and M. S-phase is DNA synthesis, M phase is mitosis, and G1 and G2 are 'gap' phases between these two.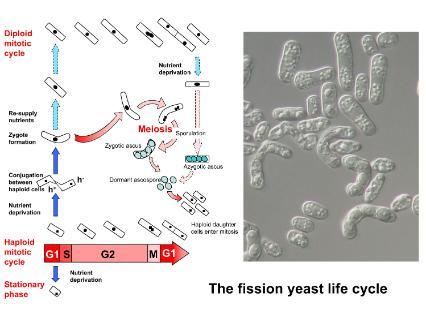 Fission yeast has proved to be an excellent model organism for studying the eukaryotic cell cycle, as many genes and mechanisms first identified in this organism are present throughout the animal kingdom.
Cell cycle transcription
At the beginning of S-phase a group of at least seven genes, including cdc22+, cdc18+, mik1+, cig2+, cdt1+, and cdt2+ are expressed whose products are required, both directly and indirectly, for replicating DNA. The co-ordinate transcription of these genes is controlled by a transcription factor complex binding to a DNA sequence motif present in the promoters of all the genes.

At the start of S-phase the promoter motifs, called MCB (Mlu I cell cycle boxes), are bound by a transcription factor complex called MBF (MCB binding factor; also sometimes called DSC1) containing a number of proteins, including Cdc10p, Res1p, Res2p and Rep2p. Chris is interested in understanding how MBF and MCBs control this cell cycle specific transcription.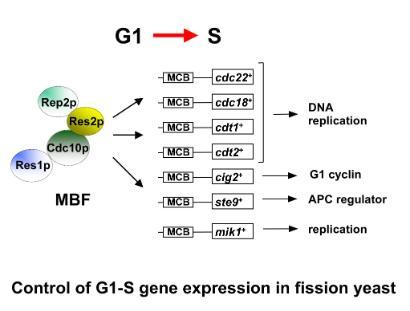 More recently, Chris's group identified another group of genes that is expressed at the M-G1 interval during the fission yeast mitotic cell cycle. This group contains cdc15+, sid2+, ppb1+ and plol+, all of which have functions late in the cell cycle including cytokinesis and septation. These genes contain a motif in their promoters called a PCB (pombe cell cycle box), which binds to transcription factor complex named PBF (PCB binding factor). Chris's group has identified at least three components of PBF: a MADS box protein Mbx1p, and two forkhead like transcription factors, Fkh2p and Sep1p. Strikingly, PBF activity and M-G1 transcription are controlled by the polo-kinase Plo1p through it binding directly to and phosphorylating Mbx1p, so plo1+ controls its own expression in a positive feedback loop. This observation is particularly exciting because polo kinases and MADS box proteins are present in all eukaryotes, including humans, and this suggests a new function for these conserved and important proteins. Chris's group is currently working to further understand how Plo1p regulates this group of genes. Cell cycle and cancer.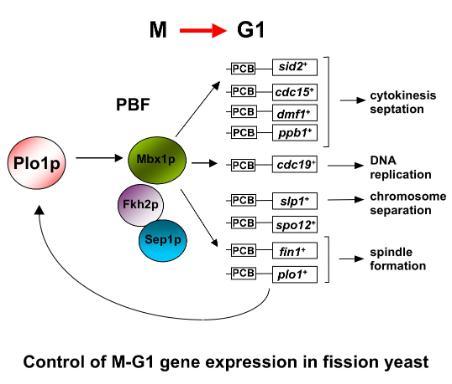 Cell cycle transcription in cancer biology
An important part of understanding the basic biology of cancer is to determine how normal cell division is regulated. Yeast is an excellent model system in which to study the cell division cycle as many genes essential for its control, originally identified in this organism, are present throughout nature.
It is now known that networks of cell cycle transcription occurs in all eukaryotic organisms, encompassing the whole cell cycle. In some cases the transcription factors are mutated in various forms of cancer. Thus, the ultimate goal of Chris's research is to analyse the role of transcription in cancer biology [1].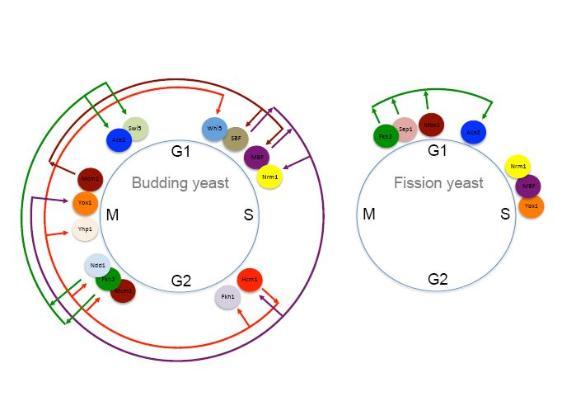 [1] McInerny CJ. 2016. Cell cycle regulated transcription: from yeast to cancer. F1000 Res. 5. pii: F1000 Faculty Rev-877.
doi: 10.12688/f1000research.8111.1. eCollection 2016.
Dr Craig J Daly
I have been studying the cardiovascular system for over 30 years. My particular interest is in the autonomic (nerve-mediated) control of arteries and veins and, in particular, the interactions between the various cells of the vascular wall.
Recent work has focused on the role of fat which surrounds most of the blood vessels of the body. This perivascular fat is thought to contribute to the relationship between hypertension, obesity and diabetes.
As a course coordinator, I have also become interested in the use of animation for teaching physiology. My novel approach is to combine 3D microscopy with Pixar-style animation software. The resulting animations are anatomically correct to within 0.1mm and are therefore not 'artists impressions' (unlike most physiology-based animations you will find on YouTube).
Click to view a selection of Dr Daly's animation work
Recent Publications
Daly CJ et al., (2010) Fluorescent ligand binding reveals heterogeneous distribution of adrenergic and 'cannabinoid-like' receptors in small arteries. Br. J. Pharmacol., 159, 787-796.
Daly CJ & McGrath JC (2011). "Previously unsuspected widespread cellular and tissue distribution of beta-adrenoceptors and its relevance to drug action" Trends in Pharmacological Sciences. 32, No.4, 219-22
Daly CJ et al., (2012). Visualisation and analysis of vascular receptors using confocal laser scanning microscopy and fluorescent ligands. 'Receptor Binding Techniques'. Humana Press. Ed. A. Davenport. Methods in Molecular Biology 897; 95-107.
Bulloch JM & Daly CJ (2014). Autonomic control of Perivascular fat; interactive mechanisms. Pharmacology & Therapeutics. In Press.
Grants
British Heart Foundation; Studentship (2011- 2013). 'The role of alpha2-adrenoceptors in alpha1-adrenoceptor null mice''.
Physiological Society. David Jordan Teaching Award. (2013-2014). Creation of anatomically accurate 3D animations for teaching physiology.
Additional Information

Personal Website (www.cardiovascular.org)

External Examiner at Glasgow Caledonian University (Human Biology, 2013-2017)

Symposia Chaired
Physiological Society Meeting: Glasgow (2002): The Use of Transgenic Animals
Pharmacological Society Meeting: London (2005): Fluorescence technologies for studying receptors
Life Science 2007: Glasgow (2007): Imaging in the Life Sciences
Pharmacological Society Meeting: Edinburgh (2009): Imaging Receptors
Invited International Presentations
2015: Sweden, Uppsala University. Guest Lecture & Teaching Session: 'Image Analysis of the Vascular Wall'
‌
Dr Iain Johnstone
Tissue specific control of the cell cycle in C. elegans
Collagen biogenesis and the recognition and processing of mutant collagens in C. elegans

My research is with the genetically tractable model organism Caenorhabditis elegans. Although moderately dissimilar to humans in appearance, at tissue, cellular and molecular levels there are many similarities. Many genes involved in regulatory pathways associated with human disease processes are conserved in C.elegans; well known examples include components of the RAS, Notch, Wnt and insulin signalling pathways, the regulation of apoptosis and genes associated with Alzheimer's and Parkinson's diseases. With a life cycle of only two and a half days, cultured on Petri plates, transgenic strains created in about a week and a wealth of mutant strains available, it is a powerful genetic system to investigate a broad spectrum of processes. Information on the anatomy of the worm is available at Wormatlas, and WormBook is an excellent online resource with sections covering many aspects of worm biology and research. WormBase is the database for C. elegans.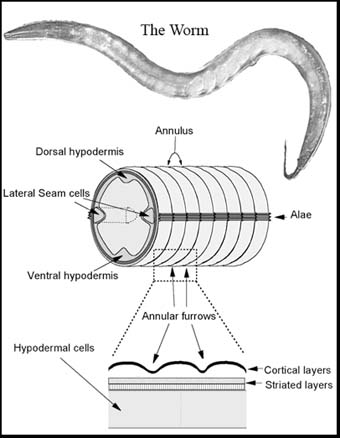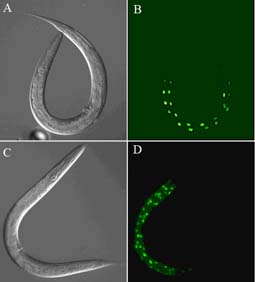 Dr Joanna Wilson
Epstein-Barr virus
One area of research in the laboratory concerns the analysis of the cancer-associated virus, Epstein-Barr virus (EBV). EBV is a human Herpesvirus that is causal in the development of several forms of human cancer, including Burkitt's lymphoma, nasopharyngeal carcinoma, Hodgkin's disease and others.
The virus leads to a life long infection, avoiding eradication by the immune system and has evolved intriguing tricks to do this.
We have developed transgenic models expressing key viral genes in order to investigate their mechanism of action in disease processes and to ask: how do they work to disturb the normal function of the cell, how does this lead to an abnormal cell state, how does this proceed to tumour formation and how does the virus avoid immune eradication? A critical viral gene is the EBV nuclear antigen-1 (EBNA1).
It is expressed in all viral associated tumour cells and is essential for viral DNA propagation, as well as enabling cell survival; a property which is likely involved in the development of cancers associated with this virus. EBNA1 represents a prime target for therapeutic design. To facilitate this, we have used in silico methods to develop a full structure for the protein.
From this we can see how the two monomers of EBNA1 "lock" together to form a stable dimer and how the homodimeric protein binds to DNA (Hussain et al (2014) Virus Genes 49: 358-372).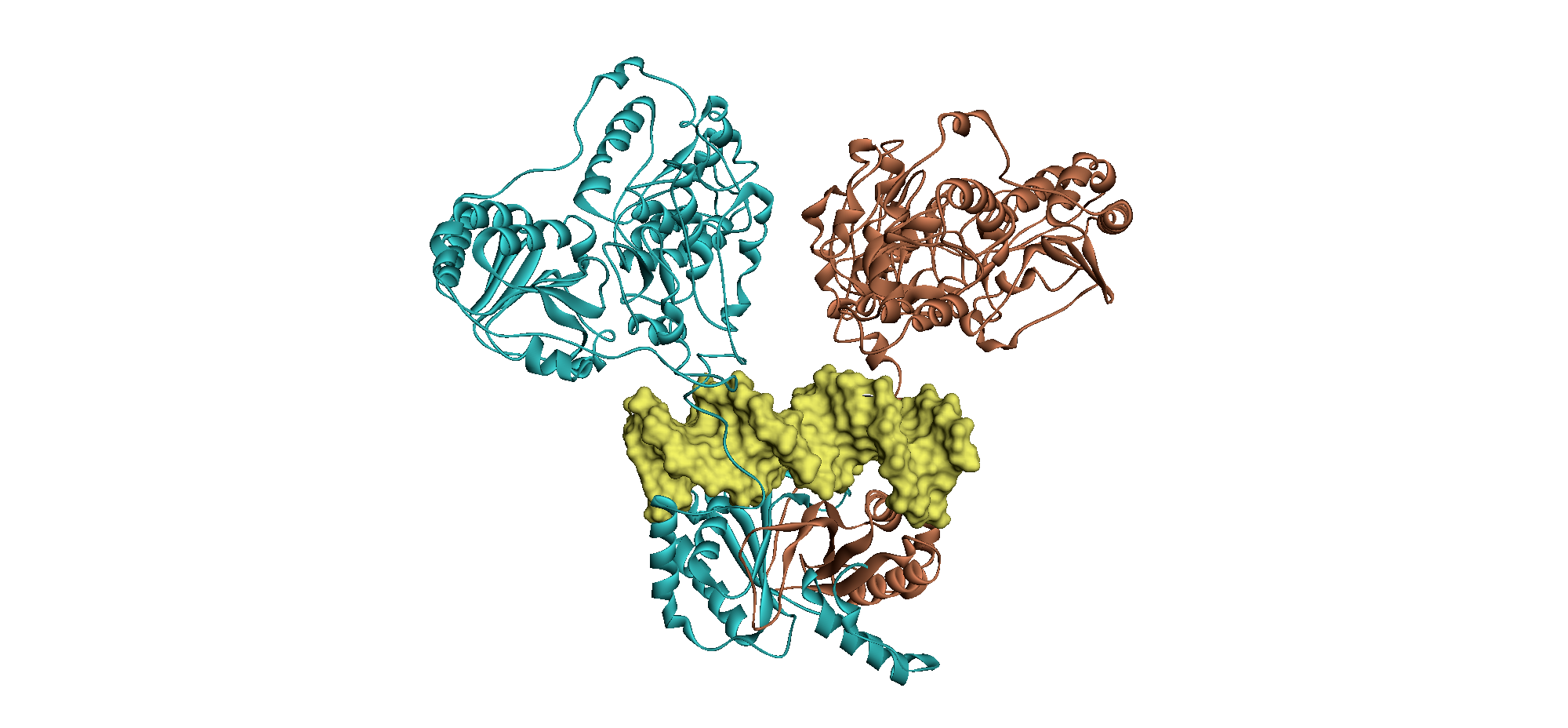 From: Hussain et al (2014) Virus Genes 49: 358-372. These images show an EBNA1 dimer in ribbon format (above: one monomer in cyan, the other brown), modelled with bound DNA (yellow) and an EBNA1 dimer in surface format (below: one monomer purple and red, the other silver and green), modelled to show the interlocking structure.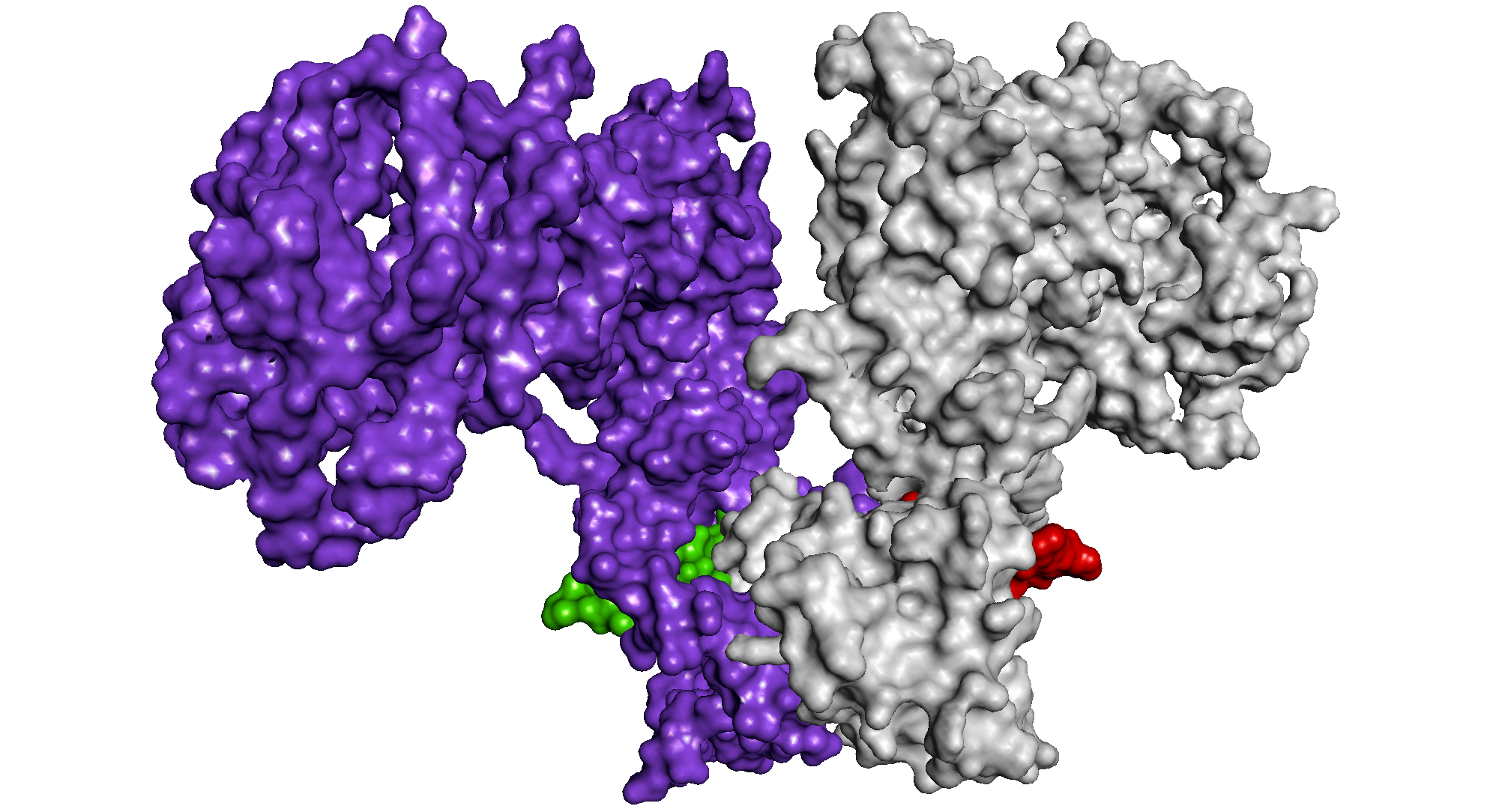 ‌
Another key gene of EBV encodes the latent membrane protein 1 (LMP1). This protein manifests many of the properties of a classic oncoprotein. It acts as a constitutively active signaling molecule and activates multiple signal transduction cascades leading to cell proliferation, cell survival and angiogenesis. We have found that it also induces inflammation. Hannigan et al (2011) Molecular Cancer 10:11 PMID: 21291541 DOI: 10.1186/1476-4598-10-11
From: Hannigan et al (2011) Molecular Cancer 10:11 PMID: 21291541 DOI: 10.1186/1476-4598-10-11 (e=epidermis, d=dermis, c=cartilage). This image shows the extensive deposition of immunoglobulin G (IgG) as part of the inflammatory response, seen as a brown stain in the dermis of a skin section expressing LMP1 (St4) compared to a control (C4).
This leads on to another area of active study in the lab. We are exploring the link between chronic inflammation, oxidative stress and cancer. Using a proteomic approach, we have identified a family of proteins, the chitinase-like proteins (Chils), that become hugely upregulated in chronically inflamed tissues (Qureshi et al (2011) Genes and Cancer 2:74-87). We are investigating the role and function of these proteins in chronic inflammation and cancer.
From: Qureshi et al (2011) Genes and Cancer 2:74-87, the data are from a 2D-DiGE study comparing chronically inflamed transgenic tissues (St2 and St5) with controls (C2 and C5 or NSC), to reveal the upregulation (seen as a protein spot (2D) or peak in 3 dimensions, above) of Chil3 and Chil4 (also known as YM1 and YM2) and graphically represented below.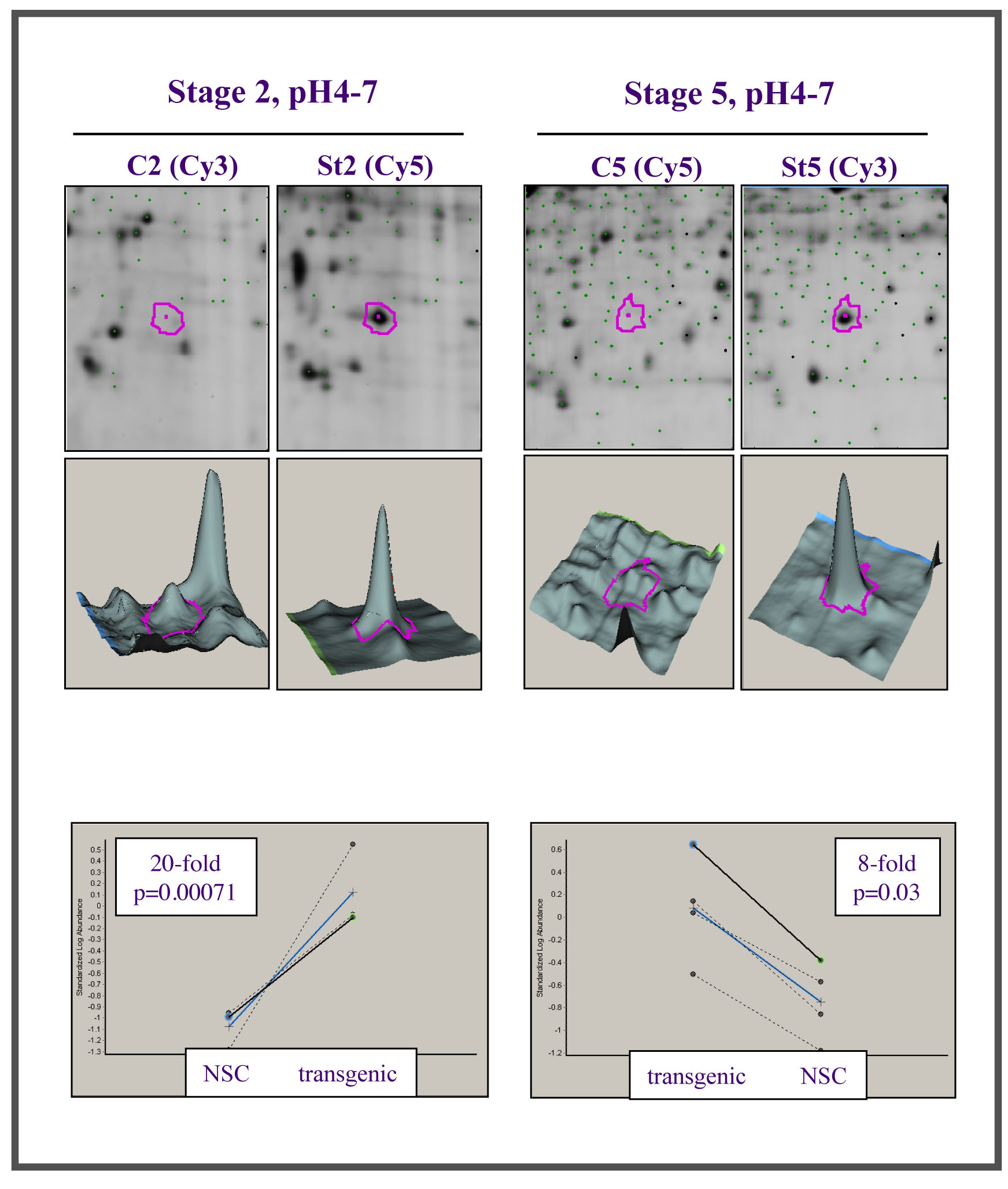 Dr Ole Kemi
Senior Lecturer
(Human Life Sciences)
I research the effects of exercise and exercise training on the human body or with the use of experimental models that mimic the human condition.
This approach allows for a more detailed investigation and knowledge-generation of the function of the body systems, organs and cells, including their integration.
Experimental Studies of Heart, Vasculature and Muscle
These studies bridge and integrate basic cardiovascular and physiologic sciences with exercise physiology and sports and exercise sciences.
Focus of research is on understanding and deciphering the cellular and molecular determinants of cardiovascular performance and the subcellular adaptations following exercise training.
This includes studying the cellular and molecular mechanistic events that underlie and translate into improved cardiac function and clinical outcome in health and disease, with the use of appropriate experimental exercise and disease models and physiologic, biophysical, and biochemical research techniques.
As a more recent extension, these techniques have also been used to assess the skeletal muscle, which also undergoes changes in response to disease or exercise training.
The rationale for this line of studies is that heart disease is the biggest killer and the leading cause of disability in the society today, and there is a limited scope of treatment.
The five-year mortality of heart failure; a severe form of heart disease is 50-70 per cent, of which ~50 per cent die of progressive pump failure chiefly caused by abnormal contractile function and ~50 per cent of sudden arrhythmic events.
Both abnormal contractile function and many arrhythmic events are further mechanistically explained by abnormalities in cardiomyocyte excitation-contraction coupling and cell function.
As such, the heartbeat, the rhythm, the force of the contraction, and irregularities thereof are controlled by the network of cells that make up the heart.
In my laboratory, we therefore study the heart muscle and its constituent cells under normal conditions, during pathologic conditions such as heart disease, and after exercise training in both health and disease.
We do this to better understand the heart, and to be able to generate better therapies for the heart when something goes wrong as a result. Ultimately, this will reduce the impact of heart disease to the patient as well as to the society at large.
Importantly, and in contrast to other interventions, exercise and exercise training provides a cheap, but underdeveloped means to improve mortality, morbidity, quality of life, function and physical capacity.
Fig 1 - From Kemi and Wisloff (Acta Physiologica 2010) and Wisloff, Ellingsen and Kemi (Exercise and Sports Science Reviews 2009)
Fig 2 - From Wisloff, Ellingsen and Kemi (Exercise and Sports Science Reviews 2009)
Exercise Physiology, Sports Science and Performance
These experiments are carried out in voluntary human subjects in the sports science or exercise physiology laboratories or out in the field, such as professional and elite training and competition or match grounds, where the subject characteristics vary depending on the purpose of the study.
Sometimes they may be healthy young adults, such as sports science students; other times they may be elite athletes competing at the highest level in their sport.
On other occasions they may be subjects suffering from a dysfunction or disease that we may seek to remedy via exercise interventions.
Recent examples of these experiments include:
Fig 3
Active recovery
Active recovery at a high intensity is superior for removing lactate in the muscle and facilitate readiness for the next exercise bout or session.
Lactate has a long and interesting history of controversy, but a bit overlooked is the fact that lactate provides a proxy measure of fatigue in the working muscle.
In a series of experiments, I and a number of students working on the project recruited healthy, normally active young adults, often sports science students, to the lab for a series for tests and measurements.
Subjects first underwent an incremental exercise test where lactate threshold and maximal oxygen uptake was measured, after a health check and a proper warm-up.
Each subsequent test, with each separated by several days, then continued with the subject undertaking really strenuous exercise by fast, intense running to exhaustion on a treadmill.
This exercise was designed to raise muscle lactate production and blood lactate concentration to high and very high levels: in some experiments to a level of 5-6 mM, and in other experiments to the even higher levels of around 10-12 mM.
Immediately following exhaustion, the subjects then began a recovery procedure that in the different experiments ranged from passive sit-down recovery (perhaps the most pleasant for the subjects) to active recovery consisting of walking to a pace that was more and more intense, by the highest intensity active recovery trial reaching the intensity of lactate threshold.
During all this, blood lactate, lactate clearance, heart rate, and oxygen uptake were determined. These experiments showed that active recovery was clearly superior to passive recovery for removing muscle and blood lactate and therefore facilitating recovery.
Moreover, the experiments showed that the optimal active recovery intensity was at or close to the individual's lactate threshold intensity.
This makes great sense, because this is the highest intensity that the subject may sustain without any further excess production and accumulation of lactate.
We know that lactate is best and most usefully eliminated by conversion to glucose in the muscle itself in a manner dependent on the rate of work by the muscle or by the liver in a process known as the Cori cycle, and in this study we were glad to show that the rate of lactate elimination is highest when the muscle is working at its highest rate it can achieve, before it topples over and starts to produce excess lactate again, which thereby must be avoided for active recovery.
Fig 4 - From Devlin et al 2014 (Journal of Sports Medicine and Physical Fitness)
Critical speed and the speed-tolerable duration relationship
This is another concept of exercise physiology my studies have sought to investigate and utilise, as a determinant of endurance exercise performance and therefore a really useful characteristic of physical capacity.
Critical speed during running - critical power, if cycling - is a measure that relatively recently both has been established as an exercise intensity demarcator alongside more traditional measures such as lactate or anaerobic threshold, as it distinguishes between heavy aerobic oxidative exercise and severe anaerobic non-oxidative exercise domains.
It also measures the relationship between speed and maximal attainable duration (speed-tolerable duration) above the critical speed, which, because it can be calculated, allows us to very accurately predict how long a subject or an athlete can sustain the severe non-oxidative exercise at given speeds above the critical speed. This helps for both optimising high-intensity training as well as competition pacing.
Fig 5
Fig 6 - From Kemi Lab
In a very recent study, a postgraduate student in the lab undertook such experiments, where she established critical speed and speed-tolerable duration, along with measurements of maximal oxygen uptake, lactate or anaerobic threshold, running economy, and metabolic energy expenditure and substrate utilisation.
This was done under normal conditions and after supplementation of anthocyanin-rich blackcurrant extract, in a cross-over, placebo-controlled and randomized double-blind research design.
Blackcurrant extract was chosen because experiments elsewhere had indicated that it may have ergogenic effects that potentially could improve high-intensity exercise.
However, in our experiments, we found no such effect. The results from our experiments showed that supplementation of blackcurrant extract did not enhance or improve endurance exercise performance or the physiologic or metabolic parameters we measured, and hence provided no ergogenic effect.
This was perhaps a little bit disappointing, but, on the other hand, it is also important to show if a product may have ergogenic potential and when it may not have so.
Fig 7 - From Kemi Lab (Pastellidou et al, European Journal of Sports Science 2020)
Physiology of Rock Climbing and Mountaineering
This is an up-and-coming area of sports and exercise science, for several reasons. First, climbing, especially indoor roped climbing and bouldering, is rising in popularity these days. It has appeal to a variety of people as their chosen form of exercise and physical activity, and climbers cite a wide variety of reasons and motivations for why they climb, but important for many is the exercise training, physical capacity and the strength and conditioning aspect of it that improves fitness, health and well-being.
This type of climbing has also a very strong competitive aspect to it, where competition climbing in line with most other sports sees athletes and competitions ranging in level from local club or community events to the international circuits of World Cups, World Championship, and most recently, its inclusion as an Olympic sport.
The characteristics of upward and often overhanging climbing that taxes upper body and core strength as well as endurance, and with each event being time-limited to a range of seconds to minutes, this sets up a distinct bioenergetic scenario not found elsewhere.
In parallel to the aforementioned are the related activities of mountaineering, hiking and backcountry skiing or ski touring, but which in contrast to climbing are characterized by long to ultra-long endurance events.
Here, the aerobic component prevails in a needs analysis of physical and physiologic determinants, but the strength contribution for successful completion is often also large and significant, though it may also be effectively non-existent, depending on the nature and chosen course of the activity.
Moreover, the environmental challenges of exercising or performing outdoors, often with a significant extra load to carry, often in cold conditions, and often at elevated altitude must also be considered.
Like climbing, however, there are important benefits to consider, such as the exercise training, improvement of physical capacity and the strength and conditioning aspects of it that improve fitness, health and well-being.
The above, therefore, make rock climbing and mountaineering interesting and really useful avenues to research from an exercise physiology perspective and promote from a public health perspective. As an example of this, in a recent study, a group of students and I set up a research study investigating the determinant factors for rock climbing performance.
Effectively, the study boiled it down to one question: from a physical capacity and exercise physiologic point of view, what makes one climber better than the other?
To answer this question, we recruited and tested climbers of all levels of achievement, from the beginners who had never climbed before to the best climbers we could get our hands on, climbers at a high national level.
Climbing achievement is graded on an open-ended scale from 0 (everyone can do it) to the current top standard of 9c (only a couple climbers in the world have been able to successfully climb at this level).
In our study, we were able to include subject and athletes of every level up to 8a, of both sexes. All participating climbers were brought to the sports science laboratory where a wide range of physical and physiologic parameters of strength, power, aerobic and anaerobic endurance, flexibility and other factors were assessed in each part of the body that we had surmised may affect climbing performance.
The participants where then also tested for climbing-specific capacities in the same muscles while performing climbing-specific exercises or while actually climbing on standardised but specific climbing routes set up for this purpose.
Subsequently, principal component and multiple regression analysis showed that there is not one, but several factors related to physical capacity that set the best climbers apart from the rest.
One important finding was specifically that shoulder power and endurance, and arm and finger strength account for almost 60-70 per cent of the variation between different climbers' peak performances, and as such provide a reason for why some climbers are better than others. Other parameters were also relevant, but not as important as the above, for determining climbing performance.
Knowing the above, we now are in a position to better and in a more informed manner tell what and how to train to progress in climbing and reach that next level of climbing. Specific training in response to this needs analysis would include specific dynamic exercises like pull-ups, static hangs with bent arms, and finger strength training, alongside more climbing and bouldering at climbing centres and locations.
Figure 8 - From Kemi Lab (MacKenzie et al, International Journal of Sports Physiology and Performance 2020)
For more details about my research, see my publications.
Figure Legend:
Figure 1 - From Kemi and Wisloff (Acta Physiologica 2010) and Wisloff, Ellingsen and Kemi (Exercise and Sports Science Reviews 2009): A schematic model of excitation-contraction coupling in muscle cells; broad arrows indicating cellular loci where exercise training induces beneficial adaptations that improve cellular function and contraction capacity.
Figure 2 - From Wisloff, Ellingsen and Kemi (Exercise and Sports Science Reviews 2009): The extent of exercise training-induced adaptation of maximal oxygen uptake (as a measure of integrated human exercise and work capacity) and cardiomyocyte contractility and size (as a measure of cellular function in heart) are closely linked together and in fact depend on each other, whereas the response to training depends on the exercise intensity of the training sessions.
Figure 3 - Exercise testing with assessment of various physiologic parameters from the lab.
Figure 4 – From Devlin et al 2014 (Journal of Sports Medicine and Physical Fitness): Lactate concentrations (left) and clearance (right) during different intensities of active recovery following a supra-maximal bout of exercise, showing that active recovery is superior to passive recovery, and that active recovery is optimal at an exercise intensity close to one's individual lactate threshold intensity.
Figure 5 – Overview of critical speed and the speed-tolerable duration relationship. Critical speed distinguishes high-intensity exercise domains fueled by aerobic oxidative energy production and metabolism (heavy exercise) versus exercise that also must be fueled by significant anaerobic non-oxidative energy production (severe to extreme exercise, with a limit of approximately 30 minutes), such that exercise at or above this intensity threshold will be inexorably limited to the period of time of less than 30 minutes that this exercise may be upheld by rate-limiting glycolytic and phosphocreatine energy production. The duration of this rate-limited exercise may be very predictably established and accurately calculated by the hyperbolic speed-tolerable duration relationship above the critical speed threshold.
Figure 6 – From Kemi Lab: Critical velocity and the speed-tolerable duration relationship in a well-trained fit and an untrained unfit person, established during constant speed testing where subjects run at different pre-determined treadmill speeds to complete exhaustion. Treadmill speed on the Y-axis, and time to exhaustion on the X-axis; the graphs show that the well-trained fit person can run at high speeds for a longer period of time; for example, the unfit subject can run at 18 km/h for <200 seconds, whereas the fit athlete can run at the same speed for ~350 seconds.
Figure 7 – From Kemi Lab (Pastellidou et al, European Journal of Sports Science 2020): The technique of measuring the speed-tolerable duration relationship and critical speed, along with measurements of maximal oxygen uptake, lactate or anaerobic threshold, running economy, and metabolic substrate utilization assays, was used to show that ergogenic supplementation of blackcurrant extract does not enhance or improve endurance exercise performance or related physiologic and metabolic parameters.
Figure 8 – From Kemi Lab (MacKenzie et al, International Journal of Sports Physiology and Performance 2020): These plots show that upper-body and shoulder endurance and power (measured by maximum pull-ups in this case) and finger strength (measured by peak force during finger pincer movement) correlate well with climbing performance.
Professor Olwyn Byron
We specialise in understanding the solution behaviour of biological macromolecules and their complexes. We do this by utilising a number of biophysical techniques to determine the solution shape of molecules and the strength, stoichiometry and architecture of the complexes they form. We collaborate widely and offer expertise in the application of our core methodologies including:
Analytical ultracentrifugation (AUC)
Small angle X-ray scattering (SAXS)
Small angle neutron scattering (SANS)
Hydrodynamic bead modelling (HBM)
Examples of our work are shown below.
Above: Graphical abstract from Byron & Vestergaard (2015) illustrating interplay of biophysical methods in order to fully understand protein-protein interactions. Two proteins are interacting: one depicted as a purple ribbon with flexible N-termini & C-termini and one particularly flexible loop, the other as a dark orange ab initioSANS/SAXS bead model. Other colours are: red - measurable parameters; yellow - surface topology elucidated by AFM or cryo-EM; yellow-green/blue sphere pair - FRET labels; green - collision cross section (CCS) elucidated by IMS; aqua blue - water; pink - surface backbone H exchanged by D.
Above: Figure 3C of Laine et al (2015) depicting a homology model for Plasmodium falciparum apicoplast E3 that reveals an extra anti-parallel β-strand at the position where human E3BP (E3-binding protein) interacts with E3; a parasite-specific feature that may be exploitable for drug discovery against PDC. Seven fleximers (coloured differently in the regions that were allowed to flex) are overlaid to illustrate the scope of conformational space explored by the models generated by discrete molecular dynamics modelling.

Left: Figure 1 of Rocco & Byron (2015) summarising hydrodynamic models generated from the atomic resolution structure of lysozyme 6lyz.pdb, (C). (A) Bead-shell model generated by HYDROPRO. (B) Tessellated model generated by BEST. (D) 5 Å AtoB US SOMO bead model. (E) Direct correspondence US SOMO SoMo bead model, with overlaps. (F) Same as in (E) after overlap removal. In (D), red and orange are exposed & buried beads, respectively. In (E) & (F) blue: main-chain; cyan: hydrophobic; magenta: non-polar; red: polar; yellow: basic; green: acidic; white: fused beads; orange: buried beads.

In an additional paper Rocco & Byron (2015) analysed the comparative performance of these hydrodynamic modelling programs and observed that a combination of SoMo overlapping bead models (E) followed by Zeno computation produced optimal results, with a 0 % average error (range −4 to +4 %).

Right: Example of the use of SAXS to complement crystallographic data (taken from Grinter et al (2014)). (Top) analysis of conformational heterogeneity of pectocin M2 reveals compact and extended ensembles in solution. The distribution of solution ensembles (generated by discrete molecular dynamics simulations) selected by GAJOE (in red) from a pool of 5000 random conformers (in grey).
Left: The two distinct populations are consistent with the two crystallographic conformations of the molecule.
Dr Stewart White
Ecology of neotropical rainforest birds
With the increasing pressures being put on the rainforests it is essential that as much information as possible is gathered about the organisms which inhabit these areas. I took part in a long-term capture-recapture study of birds in the Northern Range Mountains of Trinidad between 1988 and 1996 and conducted a smaller study in the south of the island between 1999 and 2001. I hope to return to the island in the near future to follow -up the two studies.
I am currently conducting capture-recapture studies of birds at two locations in Ecuador, one in cloud forest at Otonga Reserve in the Cotopaxi Region, the other in varzea and terra-firme forest at Sumaco National Reserve in the Oriente Region. The Sumaco Reserve has never previously been studied and as well as the capture-recapture study I am conducting a basic census of the area using a combination of mist netting, observation and sound recording.
Ecology of the Ring Ouzel Turdus torquatus The ring ouzel is a little studied species of migratory upland thrush, which in many areas of its range is in decline. My colleague David Arthur of the Tay Ringing Group has been studying a population of the birds in Glenesk since the 1980's. Numbers in the Glenesk population have been stable over the study period and we are attempting to identify the factors that have allowed this stability.
Damselfly foraging behaviour
Dragonflies and damselflies are large, spectacular insects and amongst the most ancient of flying insects. The larval stages are voracious and aggressive aquatic predators demonstrating many complex interactions with conspecifics and other organisms. I study these interactions in laboratory conditions by manipulating factors such as diet and presence or absence of other organisms.
Videos
Using his camtrap in October 2019, Dr White captured footage an unexpected night time visitor eating the food beneath his bird feeder at SCENE.
Dr Sofie Spatharis
Marine metacommunities
The impacts of fragmentation and connectivity on the structure and function of aquatic metacommunities are the focus of my current ecological research. I use phytoplankton as a model system fusing/comparing measures resulting from classical microscopic identification techniques with those from recently proposed molecular methodologies (e.g. ILLUMINA).
In the framework of the ECOGENE project, we address these questions using a range of spatial scales and employ approaches including: large-scale field sampling (fig 1a), field mesocosms (fig 1b) and experimental laboratory microcosms (fig 1c).
This research is relevant for coastal metacommunities such as ecologically important salt-production sites (fig. 2a), interconnected lagoons and salt marshes (fig. 2b), as well as rock pools.
Ecology of Marine Microalgae
Another focus of my research is microalgal ecology. In the IBAHCM lab we maintain an extensive culture collection of algae that are used for experiments on (a) establishing optimal conditions for Harmful Algal Blooms, (b) aquatic toxicology, (c) biofuel research, (d) pigment analysis, (e) uptake rates and other life-history traits.
‌Collaborators