Parasite Street Science 2019-2021
An ambitious cross-College of MVLS public engagement project involving the School of Life Sciences' Dr Nicola Veitch, Parasite Street Science was a collaboration with a street theatre group to develop and deliver a performance about parasites.
Having obtained funding from an MVLS Engagement with Research Grant and the Wellcome Centre for Integrative Parasitology in 2019, Dr Veitch, Professor Annette MacLeod and Dr Walt Adamson (IBAHCM), and Dr Vickie Curtis (WCIP) engaged with Surge to help improve the communication skills of scientists and explore the use of street theatre in engaging new audiences with our research. In this case, the MacLeod Group's work on African sleeping sickness.
The College of MVLS coalition recruited six students, three of whom were Life Sciences undergraduates, and early-career researchers to develop a show with professional artists from the troupe.
After receiving a further grant from the Microbiology Society, initial workshops were held in February 2020 to train the team of scientists to develop their performance skills, which included wearing fish costumes and interacting with the public on a busy Buchanan Street!
From there 'Parasite Street Science' was developed by Surge's artistic director, and with the development phase complete, the intention was to present the show at the Surge Summer Festival.
Originally booked for 4 and 5 July in Glasgow's Merchant City, the event was postponed due to the COVID-19 pandemic before premiering to wonderful reception at the Merchant City Festival/Surge Festival in Glasgow in July 2021.
Parasite Street Science Film Series | Student Project
As part of her final year project, Microbiology undergraduate Paige Webber developed a series of short films to support this collaboration.
Paige, who has been supervised by Dr Veitch, takes a closer look at the work of the Macleod Group, including a typical day and what motivates their research.
The Workings of a Research Facility
Sleeping Sickness Research
Sleeping Sickness a Tale of Shape-Shifting Parasites
You can view the full playlist on the School of Life Sciences official YouTube channel
Afterwards, Paige also produced a film that includes photos and footage from the show itself and interviews with the scientists and performers, which can be viewed below.
Images
Images
By Professor Darren Monkton
More images, taken by Ingrid Mur, can be found on the following Flickr page.
Further Information
Participants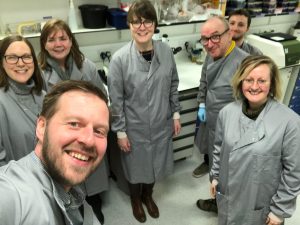 This project was delivered in partnership with Surge, Professor Annette MacLeod, Dr Walt Adamson (IBAHCM), Dr Nicola Veitch (SoLS) and Dr Vickie Curtis (WCIP).
Funding
This project was funded by the Wellcome Institutional Strategic Support Fund via a grant from the MVLS Engagement with Research Fund and the Wellcome Centre for Integrative Parasitology and the Microbiology Society.
Related Links