Disease Detectives at Glasgow Science Festival
Issued: Fri, 22 Jun 2018 09:19:00 BST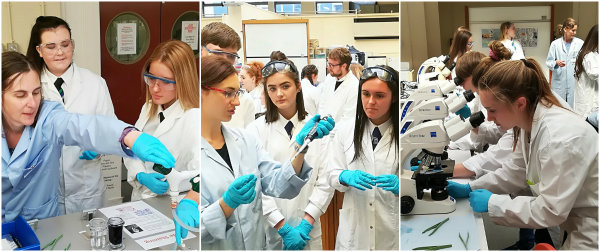 The University of Glasgow held Microbiology Disease Detectives workshops on Thursday 14 June as part of this year's Glasgow Science Festival.
Dr Tansy Hammarton, along with student volunteers and technicians from the School of Life Sciences, hosted pupils from Larbert High, Stewarton Academy, Dollar Academy and St Benedict's High School for hands-on diagnostics labs exploring bacterial and parasitic infectious diseases.
Pupils had to diagnose a 'patient' by analysing their medical history and performing microscopic and biochemical tests on mock blood or stool samples.‌
-------------------------------------------------------------------------------------
This year's Science Festival, which ran from 7-17 June, saw some familiar faces from the School of Life Sciences popping up at events held all over the City:
Prof Kevin O'Dell getting a parasite tattoo at Science Sunday! He opted for Toxoplasmosis #GlaSciFest pic.twitter.com/qIC7mQKMVd

— Glasgow Science Festival (@GlasgowSciFest) 10 June 2018
Lots of #GSFMonumental women in STEM at ⁦@riversidemuseum⁩ today! Here's Vic the zoologist, showing that scientists wear more than just labcoats #GlaSciFest pic.twitter.com/HrT2LftOEH

— Glasgow Science Festival (@GlasgowSciFest) 9 June 2018
---