Anatomy Facility Host British Red Cross Event
Issued: Thu, 27 Apr 2017 13:11:00 BST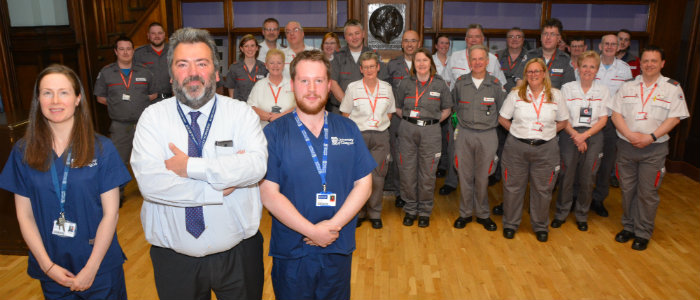 On 27 April, the Anatomy Facility hosted a training event for over 30 volunteers of the British Red Cross (BRC). Volunteers included Enhanced Skills First Aiders, Ambulance Technicians, and Paramedics attending the event as part of their commitment to ongoing training and professional development.
This collaboration between the BRC and UofG has primarily been organised by Mr Stuart McNally, Technician in Anatomy, and has been delivered by the Anatomy Chair Professor Fabio Quondamatteo, Dr Emma Bailey, Lecturer in Anatomy and Mr Stuart McNally.
Following a successful collaboration in Autumn 2016, this was the second such event held in the facility to help train and educate local volunteers before their busy events season.
The evening session began with a lecture on musculoskeletal anatomy from Professor Quondamatteo before the group moved through to the Anatomy Museum, where they had the opportunity to gain some practical experience, applying the knowledge from their training and the lecture under the guidance of Prof Quondamatteo, Dr Bailey and Mr McNally.
The evening was thoroughly enjoyed by all those that attended. The volunteers were extremely grateful to the University staff for volunteering their own time to put on the event, with firm plans in place to continue developing the working relationship between the Anatomy Facility and the British Red Cross later in the year.
Grant Falconer, British Red Cross Service Delivery Manager, said: "We were delighted to hear Professor Quondamatteo holds the work of the Red Cross with such high regards and we are very hopeful that this local collaboration will help to inform the practical support our Events First Aid team provides.
"We are indebted to Professor Quondamatteo, his teaching staff and technicians for their skills and expertise in what proved to be a very informative evening."
Find out more about the work carried out by the British Red Cross in West Scotland.
---