Dr Elihu Aranday-Cortes
Research Associate

(Virology)
telephone: 01413302988
email: Elihu.Aranday-Cortes@glasgow.ac.uk
pronouns: He/him/his
464 Bearsden Road, Centre for Virus Research, Henry Wellcome Building, Room 413 Level 4,, Glasgow, G61 1QH
https://orcid.org/0000-0003-2637-2307
Biography
I studied Veterinary Medicine at Universidad Nacional Autonoma de Mexico and completed a PhD in Clinical Medicine Research at Imperial College London in conjunction with the Animal Health and Veterinary Research Agency, focusing in bovine tuberculosis.
Research interests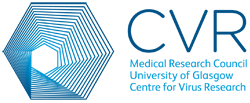 I am a Research Associate at the MRC-University of Glasgow Centre for Virus Research in Prof John McLauchlan's group, where for the last three years, I have been involved in projects related to innate immune response to viruses as well as virus diversity in hepatitis C (HCV) and dengue virus (DENV).

I have an active role in collaborative studies with the Philippines and Indonesia, both supported by MRC:Newton Funding, in which the main objective is to correlate disease severity in DENV-infected patients, who have well-defined clinical outcomes, with host transcriptomic and proteomic changes observed in the periphery. This will allow us to identify candidate virological and/or host biomarkers for the development of diagnostic platforms that predict progression to severe disease.
Publications
Selected publications
Aranday-Cortes, E. , Kaveh, D., Nunez-Garcia, J., Hogarth, P. J. and Vordermeier, H. M. (2010) Mycobacterium bovis-BCG vaccination induces specific pulmonary transcriptome biosignatures in mice. PLoS ONE, 5(6), e11319. 20596522. (doi: 10.1371/journal.pone.0011319) (PMID:PMC2893133)
Bhuju, S., Aranday-Cortes, E. , Villarreal-Ramos, B., Xing, Z., Singh, M. and Vordermeier, H. M. (2012) Global gene transcriptome analysis in vaccinated cattle revealed a dominant role of IL-22 for protection against bovine tuberculosis. PLoS Pathogens, 8(12), e1003077. (doi: 10.1371/journal.ppat.1003077)
Aranday-Cortes, E. , Bull, N.C., Villarreal-Ramos, B., Gough, J., Hicks, D., Ortiz-Peláez, A., Vordermeier, H.M. and Salguero, F.J. (2013) Upregulation of IL-17A, CXCL9 and CXCL10 in early-stage granulomas induced by Mycobacterium bovis in cattle. Transboundary and Emerging Diseases, 60(6), pp. 525-537. (doi: 10.1111/j.1865-1682.2012.01370.x)
Robinson, M. W. et al. (2015) Viral genotype correlates with distinct liver gene transcription signatures in chronic hepatitis C virus infection. Liver International, 35(10), pp. 2256-2264. (doi: 10.1111/liv.12830) (PMID:25800823) (PMCID:PMC4949513)
Aranday-Cortes, E. , Hogarth, P. J., Kaveh, D. A., Whelan, A. O., Villarreal-Ramos, B., Lalvani, A. and Vordermeier, H. M. (2012) Transcriptional profiling of disease-induced host responses in bovine tuberculosis and the identification of potential diagnostic biomarkers. PLoS ONE, 7(2), e30626. (doi: 10.1371/journal.pone.0030626)
All publications