Dr Carol Leitch
Affiliate

(School of Infection & Immunity)
email: Carol.Leitch@glasgow.ac.uk

MRC-University of Glasgow Centre for Virus Research, Sir Michael Stoker Building, Garscube Campus, 464 Bearsden Road, G61 1QH
Research interests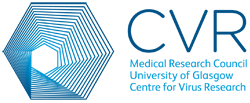 Member of the Mclauchlan Group.
RNA Viral Evolution, Diversity and Transmission
My main research interest is RNA virus evolution, diversity and transmission dynamics. Due to rapid replication rates combined with the error-prone nature of RNA polymerases, RNA virus infections are comprised of a population of closely-related but genetically non-identical virions termed a quasispecies. The huge genetic diversity contained within a quasispecies allows rapid adaptation to environmental changes so that they can, for instance, develop resistance to antiviral compounds and escape the host immune defences.
Hepatitis C Virus
Currently my research is focused on Hepatitis C virus (HCV). This RNA virus is a major cause of liver disease and infects around 3% of the world's population. Seven HCV genotypes (1-7) have been identified and their global distribution varies, as does the overall prevalence of HCV. In the UK, genotypes 1a and 3a are the most common. Although up to 50% of infected individuals clear the virus spontaneously, many go on to develop a chronic disease which can result in liver cirrhosis or hepatocellular carcinoma.
There is no vaccine against HCV and the recently developed direct acting antiviral (DAA) drugs are extremely expensive. In addition drug resistance frequently requires only a single nucleotide change within the HCV genome. Due to the HCV quasispecies and its inherent genetic diversity, resistant strains may be present within an infected individual before treatment commences and expansion of a resistant population can therefore occur rapidly.
Research Interests
My research is currently focussed on viral transmission dynamics and diversity at scales ranging from the population level to the cellular level.
‌At the population level we are currently studying HCV circulation between people who inject drugs in order to identify hotspots of transmission, key regions driving viral spread. By targeting intervention strategies such as "treatment as prevention" initiatives to these areas we can maximise their impact. Using Bayesian inference methods, we reconstructed the global origin and local transmission of HCV in Scotland. We determined that HCV was introduced into Scotland in the 1940s concomitant with its worldwide dispersal. Cluster-specific transmission hubs were identified in Glasgow, the key Scottish city implicated in driving HCV dissemination (McNaughton et al, J Virol 2015, 89:11223). We are now investigating the spread of HCV in the rest of the UK.
‌To download a movie showing HCV spread within Scotland from McNaughton et al, J Virol 2015, 89:11223, please see here: HCV spread Scotland video.
I am also interested in studying viral diversity and evolution at the cellular level. As cells form discrete compartments in which viruses can replicate separately, it is likely that evolution in individual cells occurs independently. This is of particular interest with regards to non-lytic RNA viruses such as HCV that cause chronic infections in long-lived cells e.g. hepatocytes. Research within the group has characterised the diversity of HCV replicon quasispecies and the divergent evolution in individual Huh7 cells (Leitch and McLauchlan, J. Virol. 2013, 87:12648). Currently we are examining the cellular HCV quasispecies diversity in patient-derived samples and the effect on the host immune response.
Other research interests
This includes HCV co-infections, the emergence of antiviral escape mutants and HCV-associated disease progression correlates. We are also interested in hepatitis B virus and Dengue virus.
Lab Members
Anna McNaughton (PhD student)
Collaborators
Rory Gunson (West of Scotland Specialist Virology Centre)
Kate Templeton (Royal Infirmary of Edinburgh)
Philip Meuleman (University of Ghent, Belgium)
David Goldberg and Sharon Hutchison (Health Protection Scotland)
Grants
Grants and Awards listed are those received whilst working with the University of Glasgow.
DENV project
Medical Research Council
2016 - 2019