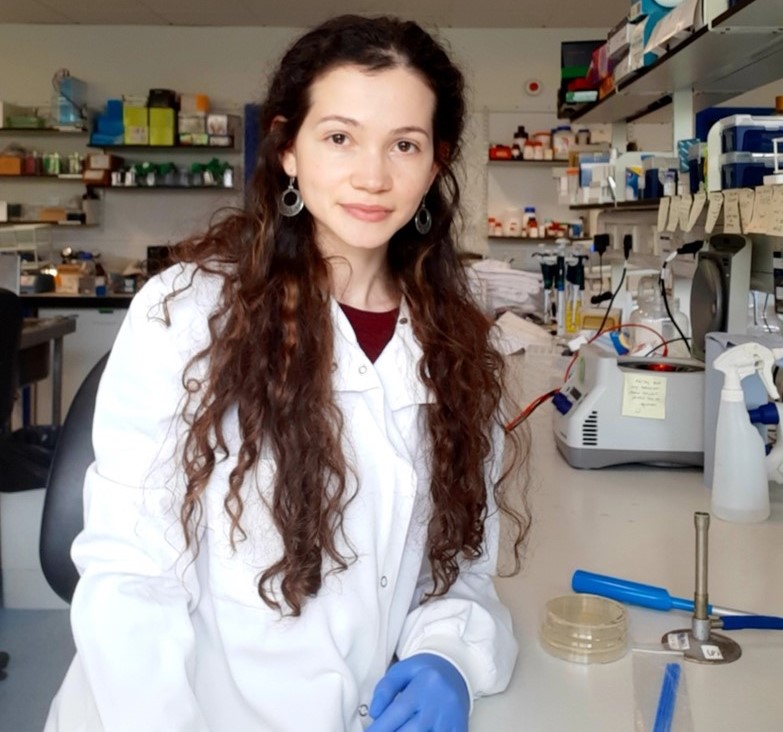 SOFIA SANDALLI
PhD Student
Roe Group Member: 2021 – Present
I am originally from Italy but had the fortune of growing up in multiple countries. In summer 2020, I graduated with a BSc. Biology from the University of Aberdeen.
During my years as an undergraduate student, I found myself particularly enjoying lab work and understood I was enthusiastic about research.
Some of my past research experiences have included looking at bacterial bioremediation (Perm, Russia), investigating DNA ligase modifications (Zurich, Switzerland) and researching mitochondrial metabolism in slugs (Aberdeen, Scotland).
With growing interest in infectious diseases and increasing awareness of their burden worldwide, I applied to the IIB PhD Programme at the University of Glasgow.
As part of the programme, I undertook a first rotation in the Roe Group (Bacteriology), working on characterising hybrid strains of Escherichia coli, and a second rotation in the Sheiner Group (Parasitology), investigating the interaction of complexes in the mitochondrial electron transport chain of Toxoplasma gondii.
In April 2021, I joined the Roe Group for my PhD. My research consists in investigating the expression of colibactin (a genotoxic compound) in intestinal E. coli and the effects that it may have on tumour formation.
In particular, I am interested in understanding how dietary components may alter the pathogenicity of the E. coli strain Nissle 1917 and subsequently influence its role in the development of colorectal cancer. Research is increasingly showing how bacterial metabolism links dietary nutrients and physiological states of the host.
Broadly speaking, I am interested in how we have coevolved with intestinal bacteria, in their mechanisms of pathogenicity, and in how our diet influences our microbiome and consequently our health.
Publications
Hallam, J.C., Sandalli, S., Floria, I., Turner, N.C.A., Tang-Fichaux, M., Oswald, E., O'Boyle, N. and Roe, A.J. (2023) 'D-Serine reduces the expression of the cytopathic genotoxin colibactin', Microb Cell, 10(3), 63-77, available: http://dx.doi.org/10.15698/mic2023.03.793.
Prizes & Awards
2023
School of Infection & Immunity Away Day Poster Prize, 1st Place