Overview of Postgraduate Study In Philosophy
The Philosophy Subject of the University of Glasgow is committed to maintaining the highest standards of research excellence, and to this end it attaches the highest importance to maintaining an active postgraduate community. There are approximately thirty postgraduate students studying for one of our research or taught postgraduate degrees. The Subject is open and friendly, and staff are freely accessible and supportive. Postgraduate students are encouraged to exchange ideas informally not just amongst themselves, but with staff too. They are encouraged to attend weekly talks by visiting speakers, and workshops and conferences organised within the department. Moreover, they are expected to attend a weekly postgraduate seminar. Although this seminar is overseen by the Director of Graduate Studies, at it postgraduate students give presentations to an almost exclusively postgraduate audience.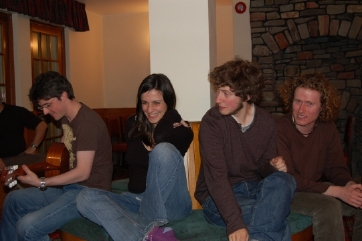 Every year in early summer staff and postgraduates go on the postgraduate reading party. This year staff and students had an enjoyable trip to Carrbridge in the Highlands in June. The photo opposite shows some of our students at a reading party. The Subject offers several degrees at the postgraduate level:
MLitt in Philosophy: a one year taught masters degree for those with an undergraduate degree in analytic philosophy
MLitt in Philosophy (conversion programme): a one year taught masters degree for those whose undergraduate degree did not include a substantial component devoted to philosophy as practised in the analytic tradition
MPhil - a one year research degree
MLitt (research) - a two year research degree
PhD - three year research degree
These degrees can also be taken part-time. After completing an undergraduate degree the standard route is to take a taught MLitt (Masters) degree and then a PhD. Entry requirements for the MLitt in Philosophy (conversion programme) include an honours degree at upper second class (2:1) level (or equivalent) in any subject. For the MLitt in Philosophy we require an honours degree in philosophy at upper second class (2:1) level (or equivalent) in analytic philosophy. Entry onto the PhD requires, in addition, good results at the taught master's level.
Our department's teaching and research covers a broad area of analytic philosophy. In particular, we have research strengths in:
The Subject hosts a leading international centre for research in the philosophy of mind, the Centre for the Study of Perceptual Experience, as well as the Forum for Quine and the History of Analytic Philosophy along with many externally funded events in (among other areas) epistemology, ethics and political philosophy, metaphysics, logic and language.
The department's teaching was rated excellent by the Scottish Higher Education Funding Council, and we did well in the most recent 2008 RAE research exercise. The profile for the Philosophy Department at Glasgow was:
| 4* | 3* | 2* | 1* | Unclassified |
| --- | --- | --- | --- | --- |
| 5% | 50% | 45% | 0% | 0% |
4* is defined as 'world-leading', 3* as 'internationally excellent', 2* as 'recognised internationally' and 1* as 'recognised nationally'.
That means Glasgow has risen substantially in the ranking from the last exercise. The majority of Glasgow's research was rated as 'internationally excellent' and indeed we were one of only 5 UK departments to be rated at international standard in all areas, with nothing rated below 2*.
There are ample study facilities within the department, including a separate networked computer cluster for postgraduates and shared office accommodation. The University Library is well stocked in philosophy, with approximately £10,000 allocated each year for new philosophy acquisitions. There is a departmental common room, the Mature Students Association and the Graduate Research Club offers the opportunity to meet and chat in an informal setting.