Glasgow-Campinas Conference: Quine and His Place in History
Issued: Tue, 11 Nov 2014 10:21:00 GMT
‌Venue
: Reid Room, Philosophy, 67-69 Oakfield Avenue, Glasgow University
16-18 December 2014

Contributors: Yemima Ben-Menahem, Gary Ebbs, Jane Heal, Peter Hylton, Frederique Janssen-Lauret, Gary Kemp, Rolfe Leary, Ann Lodge, Andrew Lugg, Fraser MacBride, Douglas Quine, Robert Sinclair, Alan Weir.
Organisers: Frederique Janssen-Lauret and Gary Kemp.
Funding to offset the costs of childcare is available for participants who are parents or carers. Enquire via email.
A limited number of bursaries may be available for postgraduate students wanting to attend. Apply via email.
All welcome
Please email fmjanssenlauret@cle.unicamp.br to register
We want this conference to be an inclusive event, and we support the Feminist Philosophers' Gendered Conference Campaign
We gratefully acknowledge the support of the Mind Association and the Scots Philosophical Association.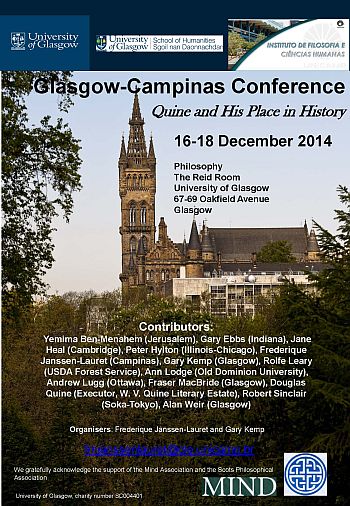 ---