Deep-time dialogues - a conversation about the SERF Project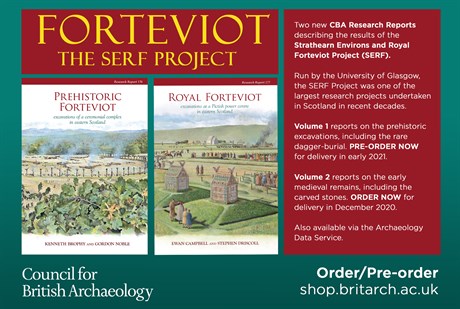 Directors of the SERF Project took part in a roundtable event on 13th April hosted by the Council for British Archaeology. Deep-time dialogues was a conversation about the motivations behind the long-term SERF project excavations between 2007 and 2017, in particular focusing on excavations and fieldwork at Forteviot and the hillforts of Strathearn. Conversation focused on issues from cropmark management, to engagements between prehistorians and medieval archaeologists, and the history of Glasgow's archaeology department research in Strathearn was also discussed. The panel consisted of SERF directors Ewan Campbell, Stephen Driscoll, Tessa Poller, and Kenny Brophy, and Rebecca Jones (head of archaeology and world heritage at Historic Environment Scotland). Sally Foster of Stirling University chaired the discussion, which was hosted by Neil Redfern of CBA.
You can watch this hour-long event here:
Deep-time dialogues marks the publication of the first two monographs reporting on the SERF excavations, Prehistoric Forteviot and Royal Forteviot (CBA, 2020). Both volumes of Royal Forteviot are available to purchase here.
Alternatively, you can download digital copies from the Archaeology Data Service website:
---
First published: 11 April 2021