#BlackInArchaeologyWeek
#BlackInArchaeologyWeek / #BlackInArchaeo - BlackInArchaeo - a celebration of the past, present and future of Black archaeologists around the world.

The Society of Black Archaeologists (SBA) has partnered with the Black Science Coalition and Institute (B-SCI), the European Society of Black and Allied Archaeologists (ESBAA)** and NegrArqueo - Rede de Arqueologia Negra to organise the week #BlackInArchaeologyWeek February 1-5, 2021.

#BlackInArchaeologyWeek will be a virtual celebration of the contributions of Black and African archaeologists to our discipline, as well as some of the sites and stories about the Black world that are close to our hearts. The #BlackInArchaeologyWeek celebration will include live-streamed intergenerational dialogues, a virtual exhibit, the Fugitive Archaeological Spaces webinar, a live YouTube premiere #BlackInArchaeo and more.
The #BlackInArchaeologyWeek celebration will highlight the work of the SBA to highlight and immortalize those who practice archaeology and work to build Black history in the present moment. To support this work, the SBA is launching our 2021 Black History Month fundraiser on February 1, 2021 to support our efforts to develop and deliver digital content to our communities and members as we cannot come together in person.
**ESBAA was founded in 2020 in the UK by Peggy Brunache (University of Glasgow/SBA), Benjamina Efua Dadzie (Cambridge University/Museum Detox), Laura Hampden (Historic England/Museum Detox), Karen Goodlet (Southampton University) Amal Khreisheh (South West Heritage Trust) Danika Parikh (Cambridge University), Jeannette Plummer Sires (The British Museum), Chioma Vivian Ngonadi (Cambridge University/Society for Archaeological Science/University of Nigeria, Nsukka) and Rihlat Said Mohamed (Cambridge University).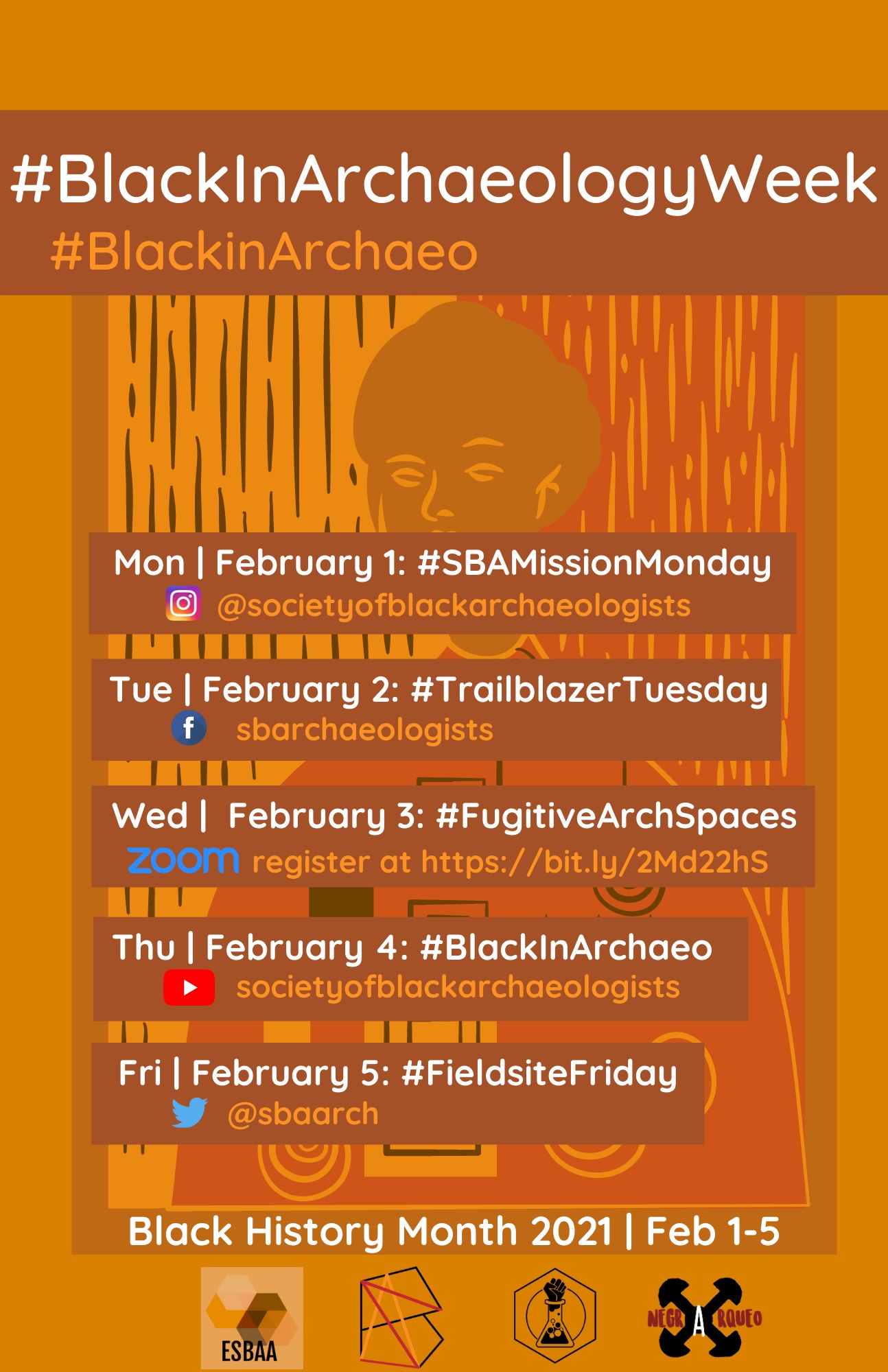 ---
First published: 31 January 2021