Immersive Technologies in Cultural Heritage Research and Practice
Published: 18 April 2021
Immersive Technologies in Cultural Heritage Research and Practice
Tuesday 20 April 2021, 10am-4pm
This free event is offered by the SGSAH Cultural and Museum studies Discipline+ Catalyst. It is aimed at PhD students in arts and humanities disciplines registered at Scottish universities and who are in the early stages of their research (normally first or early second year).
The use of immersive technologies (such as Virtual Reality–VR, Augmented Reality–AR, Extended or Cross Reality–XR) in the cultural sector has expanded in the last few years, impacting the way various users are engaging with collections, exhibitions and related themes, stories, and ideas. Immersives are affecting how visitors are experiencing cultural heritage in public venues as well as in other settings like home and work. New research is examining not only the technological issues and challenges that these technologies raise, but also those related to the arts, humanities, and social sciences, such as creativity, accessibility, materiality, learning, and social interaction.
This one-day event will offer the opportunity to hear about and discuss the potentials offered by a range of immersive technologies in cultural heritage. The event will include an introduction to the range of immersives that can be used in cultural heritage and their areas of application, with a discussion of the potential and challenges of these new technological affordances for the cultural heritage sector. Invited experts and practitioners will deliver presentations on their experiences of immersives and will take part in a round-table discussion. PhD students will deliver short presentations on their own research as part of a PhD showcase.
The event is organised for the Scottish Graduate School of Arts and Humanities Cultural and Museum Studies Discipline+ Catalyst, in collaboration with the University of Glasgow Arts Labs on Digital Cultural Heritage and on Immersive Experiences (IELab), by Prof. Maria Economou (University of Glasgow) with Prof. Ian Ruthven (University of Strathclyde) and Dr Thea Stevens (Glasgow School of Art).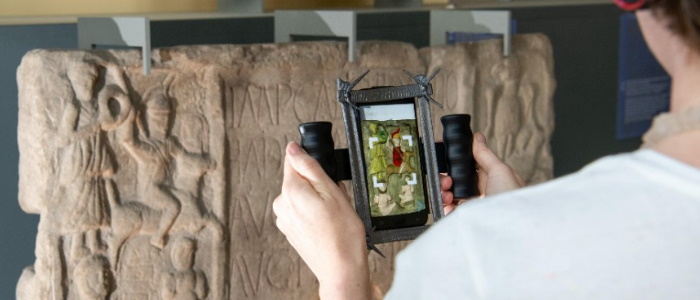 ---
First published: 18 April 2021
Related Links: