Lorna Hughes and Andrew MacKillop part of new UK-Ireland Digital Humanities Collaborations
Published: 4 September 2020
12 New UK-Ireland Digital Humanities Collaborations Announced including two projects involving Lorna Hughes and Andrew MacKillop
Two UofG College of Arts academics are part of a ground-breaking funding programme to support collaborations between Irish and UK researchers in the field of Digital Humanities.
In total the new joint collaborative funding programme by the UKRI's Arts and Humanities Research Council (AHRC) and the Irish Research Council (IRC) is supporting 12 new collaborations between Irish and UK insitutions within the inherently interdisciplinary field of Digital Humanities.
The successful UofG academics - Professor Lorna Hughes and Dr Andrew Mackillop - are both School of Humanities | Sgoil nan Daonnachdan based at the College of Arts.

At a time of upheaval and uncertainty, these networking grants provide an opportunity for international co-principal investigators and research teams to work together to enhance experiences and understandings of culture, heritage and the arts, while pushing the boundaries of emerging technologies.
In addition to producing excellent research, these networks will reinforce UK-Irish cooperation and innovation ties, preserving the long-standing synergies between these two countries.
The UofG collaborations announced are both with Trinity College in Dublin:
IIIF for Research (IIIF4R) Network
Professor Lorna Hughes (UofG's School of Humanities | Sgoil nan Daonnachdan) and Ms Arlene Healy (The Library of Trinity College, Dublin), with Dr. Mary Ann Constantine, Centre for Advanced Welsh and Celtic Studies, University of Wales.
This network will promote dialogue between curators and developers involved in the development of the International Image Interoperability Framework (IIIF) and scholars working in relevant areas such as manuscript studies, bibliography, media history and digital humanities, to identify potential areas where the use of IIIF can transform research methods and create new forms of collaborative dialogue.
Comparing and Combining Early Modern Irish and Scottish Land Records: New Transkribus and Natural Language Processing Approaches
Dr Andrew Mackillop (UofG's School of Humanities | Sgoil nan Daonnachdan) and Dr Patrick Walsh (Trinity College, Dublin).
The National Records of Scotland (NRS) and Property Registration Authority of Ireland (PRAI) are the repositories for the Scottish Register of Sasines and Irish Register of Deeds respectively. These are among Europe's most detailed and comprehensive early modern records relating to the ownership, transfer and financial utilisation of land.
They offer the ideal basis around which to foster new interdisciplinary partnerships between two internationally significant archives in Ireland and the UK, the Higher Education (HE) sector in the respective countries, and engagement with civic and public stakeholders. This network aims to develop an innovative set of interdisciplinary collaborations between digitization specialists and experts in the respective archives, HE-based DH specialists, academic disciplines and potential public user groups.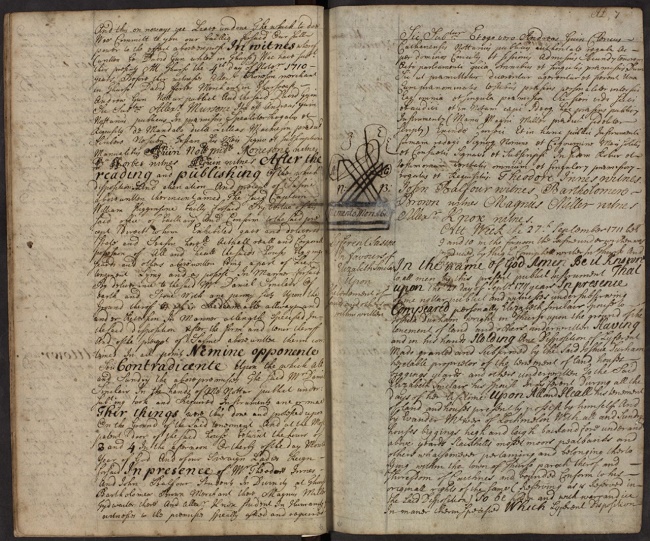 This collaborative funding programme aims to deliver a transformational impact on Digital Humanities research in the UK and Ireland.
The Irish teams are supported by the IRC, whilst the UK teams are supported by £280,000 from UKRI's Fund for International Collaboration, which aims to enhance the UK's excellence in research and innovation through forging new bilateral and multilateral research and innovation programmes with global partners. This £280,000 will support innovative Digital Humanities projects that range in aim from joint infrastructure and capacity-building to providing the public with online access to hidden monuments, heritage landscapes and digital reconstructions of historic buildings.
Lead researchers from 10 British research organisations and seven Irish universities have been selected for funding in this highly competitive call.
Commenting on the announcement, Andrew Thompson, Executive Chair, AHRC, stated: "In the current times, the importance of digital research as a means of enhancing our access to, and understanding of, culture and heritage has never been greater. The UK and Ireland are world-leading in the field of Digital Humanities. These networking awards will bring together complementary strengths across multiple academic institutions and project partners in both countries to drive new standards in digital innovation. In so doing, they will create a platform for deeper research collaboration between the UK and Ireland, to be taken forward over the remainder of the joint funding programme and beyond."
Professor Jane Ohlmeyer, Chair of the Irish Research Council, added: "The impressive range of projects funded is a testimony to the vision, expert skills, creativity and cultural sensitivity of Digital Humanists working within Irish and British universities and heritage organisations. The Irish Research Council is delighted to partner with the UK Arts and Humanities Research Council to support North-South and East-West collaborations and the further development of this area of shared strength, dynamism, and opportunity."
These networking grants are the first of two proposed AHRC-IRC joint funding calls in the Digital Humanities.
The full list of 12 successful collaborative projects are here.
---
First published: 4 September 2020