Does provision of nearby physical activity facilities mean people exercise more?
4th February 2019
Does provision of nearby physical activity facilities mean people exercise more?
A new study has found that working adults' exercise frequency was higher where they lived and worked in closer proximity to private sports halls, gyms and swimming pools, compared with public facilities. Many more physical activity facilities were accessible near people's workplaces compared with their homes.
Features within home neighbourhoods are important for promoting physical activity; the assumption is that if facilities are readily accessible, physical activity may become more likely due to a reduction in travel time, or where other exercisers are seen around facilities, it becomes 'normalised'. Although around 60% of time spent in exercise daily is undertaken outside the residential environment, relatively little research includes both home and workplace neighbourhood contexts.
This study analysed associations between spatial access to physical activity facilities and frequency of physical activity (i.e. how many days per month people reported being physically active).
Using a Geographic Information System (GIS), home and workplace postcodes of a sub-sample of 'Transport, Health and Well-being' 2010 study (THAW 2010), 513 working adults in west central Scotland were mapped, along with public and private physical activity facilities within 20 minutes walking distance of home and workplace postcodes.
Respondents had relatively easy access to exercise facilities within both home and workplace neighbourhoods – 86% lived, and 89% worked, within a twenty minute walk of at least one sports hall, gym or pool. In comparison to home neighbourhoods, workplace neighbourhoods had significantly higher mean number of facilities of any type. However the physical activity facility type may be the key factor in influencing exercise levels; private, rather than public, facilities appeared to positively influence activity.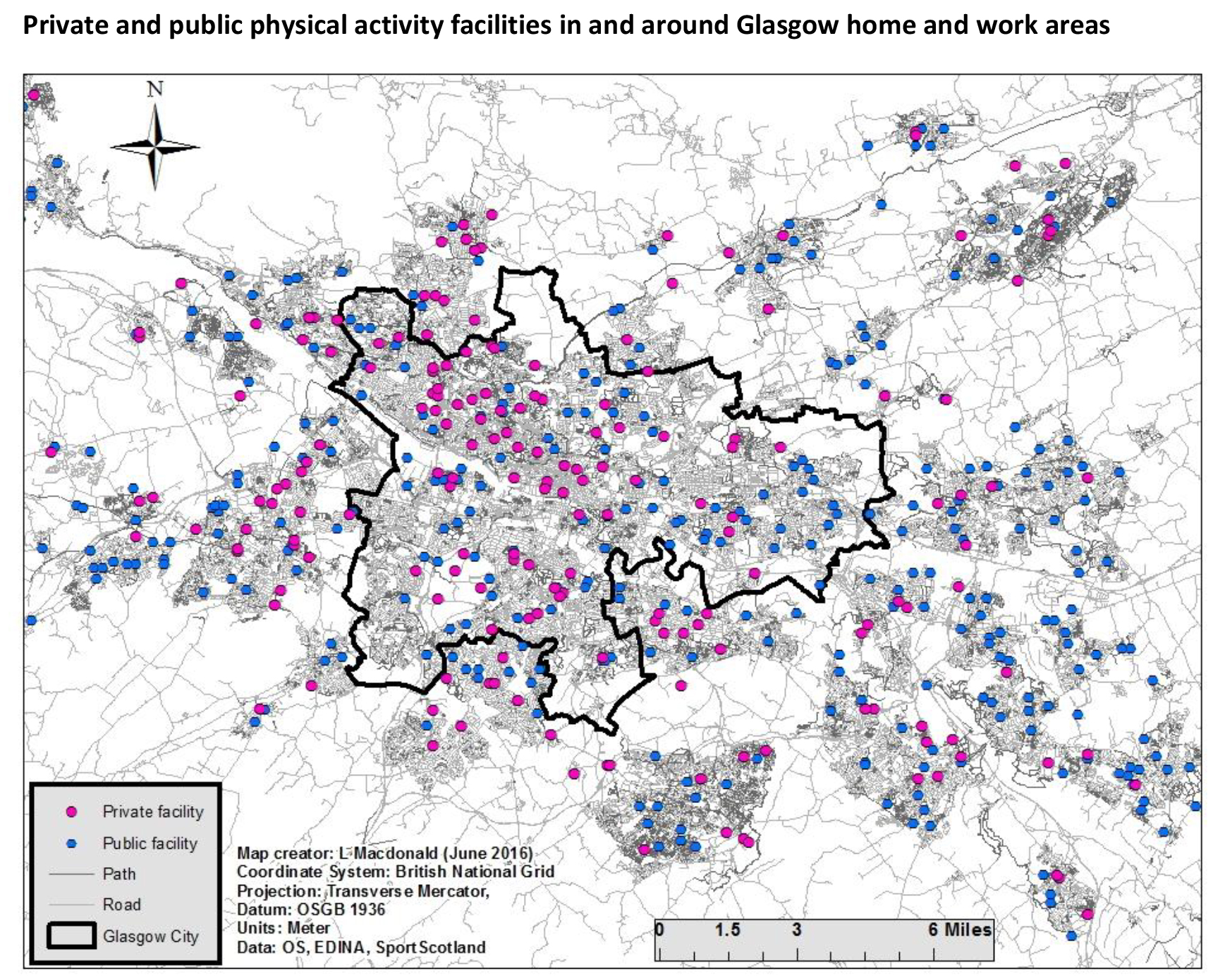 It is recommended that adults' weekly physical activity should reach at least 150 minutes of moderate intensity, or 75 minutes of vigorous intensity, aerobic physical activity (or alternative combination of both). But more than a third of the Scottish population do not meet these recommendations, with a greater proportion of those from disadvantaged areas not meeting recommended levels.
Within this study, the lowest income deprived group displayed the lowest exercise frequency; however they also appeared to gain the most exercise benefit from proximal private facilities compared to those within less deprived areas. This may be due to neighbourhood physical activity resources influencing exercise habits of the socially disadvantaged groups to a greater extent than the physical activity of their more advantaged counterparts.
Laura MacDonald, who carried out the study, said:
"The findings in this study suggest that physical activity supports within both home and workplace neighbourhood contexts influence workers' health behaviours; these findings may feed into planning for behaviour-change interventions within both spaces. Future work could explore how service charges and the quality and attractiveness of services within public and private facilities differ, and how home and workplace environments interact to influence health behaviours."
Associations between spatial access to physical activity facilities and frequency of physical activity; how do home and workplace neighbourhoods in West Central Scotland compare? is published in the International Journal of Health Geographics.
---
First published: 4 February 2019