Welcoming the new director of Robertson Centre for Biostatistics
Published: 15 September 2022
Two months into his new role within Robertson Centre for Biostatistics and the Glasgow Clinical Trials Unit, new director Professor John Petrie introduces himself and reflects on future opportunities and priorities within these important areas of SHW
We are delighted to welcome Prof John Petrie to SHW and to his new role as as Director of the Robertson Centre for Biostatistics (RCB) and the Glasgow Clinical Trials Unit. Here, he introduces himself to SHW colleagues, and reflects on future opportunities and priorities within these important areas of our school.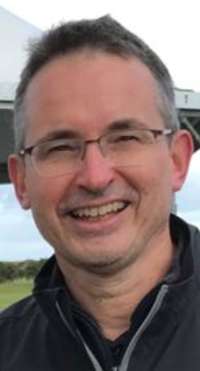 I am writing almost two months on from starting as Director of the Robertson Centre for Biostatistics (RCB) and Glasgow Clinical Trials Unit.
Some of you know me already – but if not this is "hello" from me!
I have been Professor of Diabetes at the University of Glasgow since 2010. I qualified as a doctor more than 30 years ago and completed my PhD on insulin resistance and vascular disease in 1997. At that time I was lucky enough to attend a statistics course run by RCB's early director, Ian Ford.
The RCB has a rich and prestigious history over the last 30 years and has had a major impact on improving human health globally. Our task now is to take it on to the next chapter.
We are so fortunate to be moving very soon to a wonderful new physical environment with colleagues from the School of Health and Wellbeing in the Clarice Pears building. In the new era of hybrid working, I want the RCB to be a wonderful and exciting place that will attract people to come in and enjoy the small everyday interactions that create new ideas.
The College of Medical, Veterinary and Life Sciences has put clinical trials front and centre in its MVLS 2025 strategy – for example, the imminent launch of a new Glasgow Centre for Clinical Trials Methodology. Engagement with this initiative is a real opportunity for staff of all disciplines to engage with the wider university.
The college is also prioritising fostering early career researchers and developing new investigators. There are so many opportunities out there for the next generation with novel trial design, new clinical areas for investigation, large datasets to be mined and exciting collaborations.
Thank you all for a warm welcome – and thank you to John Cleland (former director of RCB, now in the School of Cardiovascular and Metabolic Health) for facilitating an easy transition.
I am looking forward to an exciting journey with the RCB team and SHW colleagues over the next few years.
Prof John Petrie
Director of the Robertson Centre for Biostatistics and Glasgow Clinical Trials Unit
Professor of Diabetes
Find out more about Prof John Petrie
---
First published: 15 September 2022