Measuring and lessening treatment burden after a stroke
General Practice and Primary Care's Dr Katie Gallacher and Professor Frances Mair have been awarded a CSO grant for £233,357 to develop and validate a new patient-reported measure of treatment burden in stroke.
This new measure will enable the standardised measurement of the workload of health management and its impact on wellbeing, from the perspective of people who have had a stroke. It will be used as an outcome measure in trials of stroke treatments.
The study involves a large postal survey and qualitative interviews, and will recruit from several health boards in Scotland.
Collaborators include Dr Terry Quinn from Institute of Cardiovascular and Medical Sciences, Dr Lisa Kidd from School of Nursing, Dr Sarah Barry from the University of Strathclyde and Dr David Eton from The Mayo Clinic in the United States.
Reflecting on the work that lies ahead, Katie Gallacher (right) said: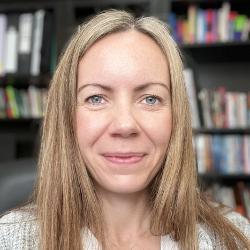 "This study will drive forward our larger programme of work aimed at measuring and lessening treatment burden after a stroke. We have seen major advances in stroke treatments over recent decades and this has saved countless lives. However the work of managing health after stroke can be complex and demanding and stroke survivors may have a reduced capacity to do this due to stroke-related disabilities. Developing this measure will enable researchers and healthcare providers to not only understand the efficacy of treatments but also how easy they are to integrate into everyday life. Individuals are more likely to engage with low rather than high burden treatments after their stroke and this improves the chances of a better outcome."
---
First published: 14 March 2018