"When it is Darkest"
Suicide is baffling and devastating in equal measure, and it can affect any one of us: one person dies by suicide every 40 seconds. Yet despite the scale of the devastation, for family members and friends, suicide is still poorly understood.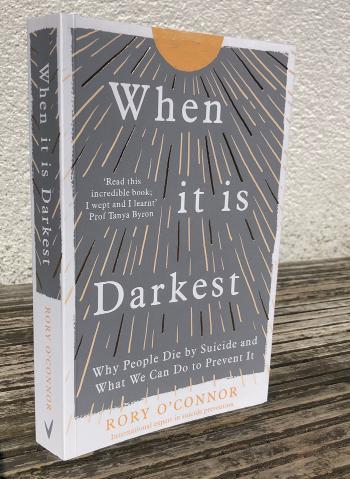 Rory O'Connor's book "When it is Darkest. Why People Die By Suicide and What We Can Do To Prevent It" was published on 06 May 2021.
The book is Rory's journey (so far) in suicide research and prevention, where he brings together the personal and the professional, drawing on people stories, including his own, and the research evidence to better understand the pathways to suicide. As he says in the Introduction, the book is written for a wide audience; for anyone interested in understanding this complex phenomenon including those bereaved by suicide, those struggling to stay alive as well as those supporting people who are suicidal:
"In this book, my aim is to get to the heart of this most tragic of human outcomes, challenging myths and misunderstandings. I also aim to illustrate the vulnerabilities in all of us, but crucially to show how these vulnerabilities can be catalysts to make us stronger. I will take you through the research evidence and the different ways in which we try to understand suicide, but importantly I will also provide a voice for those who are suicidal or who have been bereaved by suicide. I have deliberately steered away from adopting a textbook approach to writing this book. As suicide can affect anyone, I want it to be accessible to as wide a readership as possible."
The book has been extremely well received with glowing endorsements from Niall Boyce (Editor, Lancet Psychiatry), Tanya Byron (psychologist, broadcaster and author), Steve Peters (bestseller author) and Roman Kemp (DJ and broadcaster).
Snippets from reviews
"incredible", "unique", "accessible", "extraordinary", "compassionate", "poignant", "heartfelt", "thought-provoking", "compelling", "riveting", "invaluable"…
"When It Is Darkest" is published by Vermilion and available to buy in bookstores or online.
For anyone experiencing suicidal thoughts, Samaritans volunteers are available 24 hours a day, 7 days a week (TEL 116 123 EMAIL jo@samaritans.org)
---
First published: 14 March 2018