CONUNDRUM project
A new co-developed and systems-informed study provides insights into the social context shaping use and non-use of condoms and contraception among young people in Scotland
CONUNDRUM (CONdom and CONtraception UNDerstandings: Researching Uptake and Motivations) was commissioned in 2019 by three Scottish NHS health boards, in partnership with the Scottish Government, in response to decreases in young people's use of free condom services and some forms of contraception.
The study was co-developed with over 100 sexual health stakeholders – including young people, clinicians, health promotion specialists and policymakers – who contributed to shaping the study priorities, methods, and nine key recommendations for future sexual health policy and service provision.
Visual depiction of the study journey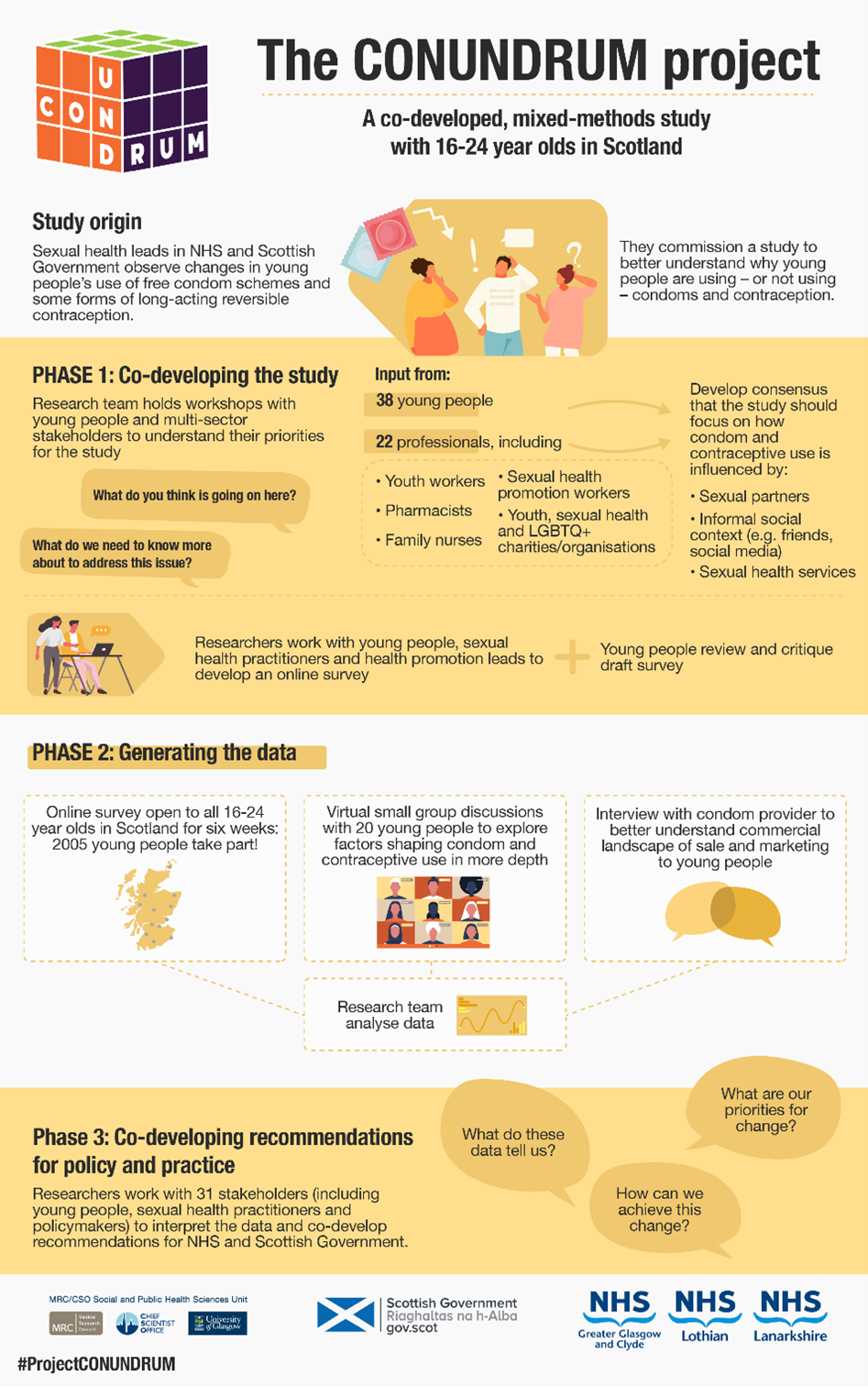 Using a systems perspective, CONUNDRUM was designed to improve understanding of the multiple factors shaping young people's experiences of condoms and contraception, including those relating to sexual partners, wider social networks, and sexual and reproductive health services. As fieldwork was conducted in 2020, the study also provides insight into how young people's access to condoms and contraception was disrupted during the early months of the COVID-19 pandemic.
Over 2000 16–24 year olds living across Scotland participated in the mixed methods study, which included an online survey and small group discussions.
A webinar reporting study findings was attended by over 140 practitioners, policymakers and young people from across Scotland, with initial feedback indicating the findings are already having an impact on local and national discussions about sexual health policy and service delivery in the post-pandemic context.
Study updates are also available via twitter (#ProjectCONUNDRUM)
Ruth Lewis (Research Fellow)
Carolyn Blake (Research Associate)
For more information, please contact: Ruth Lewis Ruth.Lewis@glasgow.ac.uk or Carolyn Blake Carolyn.Blake@glasgow.ac.uk, both at MRC/CSO Social Science and Public Health Unit, University of Glasgow
---
First published: 28 June 2018