IHW researcher receives MQ fellows award
Mental Health and Wellbeing's Dr Ruchika Gajwani has recently been awarded one of three prestigious MQ Mental Health Research fellowship awards.
These awards are made to "the best and brightest early career scientists who are asking challenging questions that will contribute to transformative advances in mental health research".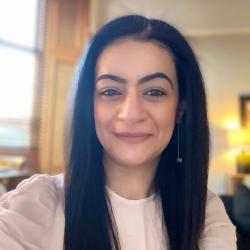 Ruchika is a clinical psychology research fellow and an honorary clinical psychologist within specialist children's services in NHS Greater Glasgow and Clyde. Since moving to Scotland and joining the Adverse Childhood Experiences (ACE) Clinical and Research Centre in 2014, Ruchika has had the opportunity to engage with local services, experienced service providers and young people to research the gaps in young people's mental health provision. Engaging substantially in the model of early intervention, Ruchika and the ACE Centre have developed a clinical research programme to understand what are the developmental pathways to youth mental health (both in relation to at-risk and resilience).
Her three year fellowship will focus on a feasibility randomised control trial with young people early in the course of borderline personality disorder (BPD). Known as the BRIDGE project, it is is a feasibility randomised controlled trial (fRCT) of brief, intensive assessment and integrated formulation with young people early in the course of borderline personality disorder. BPD is diagnosed on the basis of a pervasive pattern of instability of interpersonal relationships, self-image, and mood as well as marked impulsivity. It is a controversial diagnosis in young people, yet those with symptoms meeting criteria for BPD are frequently underdiagnosed, untreated, are not in employment or training and estranged from their families. In this study, we are looking at the feasibility of recruiting sixty young people aged 14-24 screening for persistent, complex mental health difficulties characteristic of early BPD from the general population of Glasgow, Scotland. The participants meeting screening criteria will be randomised in a 1:1 ratio to receive either (a) the brief intervention plus service-as-usual or (b) service-as-usual alone.
Young people with early BPD benefit from good clinical care and targeted intervention, however are regularly missed. In practice, young people and adults with BPD are known to experience discrimination and disengagement from specialist services which perpetuates social and health inequalities. This feasibility trial, recruiting from a range of services and the general population, will provide a clear description, useful to commissioners and policy-makers, of the complex needs of young people with BPD, who may otherwise be missed from services because they don't "fit" a traditional service model/diagnosis.
Reflecting on the award and the work that will arise out of it, Ruchika said
"BPD research is hugely underfunded and this has implications for some of the most vulnerable and underserved children and young people in our society. To receive the MQ fellowship is a career highlight, an amazing opportunity to develop a centre of excellence for young people's mental health clinical research in Glasgow!"
Find out more about the work of the Adverse Childhood Experiences (ACE) Centre
---
First published: 14 March 2018