Dr Ciara Keating
Research Associate (Infrastructure & Environment)
Research interests
Biography
I am a microbiologist (BSc from the National University of Ireland, Galway) specialising in the complex microbial communities in anaerobic waste treatment systems. My primary research focus is in sustainable biological wastewater treatment. More specifically in the anaerobic digestion process (PhD; NUIG). This is a multi-step process whereby organic material is broken down by groups microorganisms in the absence of oxygen. It has been harnessed in wastewater treatment due to the production of a renewable energy source (in the form of methane) as an end-product of the reaction. I believe that anaerobic digestion biotechnologies are key to reducing our reliance on fossil fuels, generating renewable energy and recycling of nutrients. Through understanding and harnessing the microbes underpinning this process we can develop more robust and resilient treatment systems in the field.
Current Research
My aim is to develop novel methodologies so that we may better understand key microorganisms in the AD process. This is difficult as oxygen is toxic to these microorganisms. In my role as PDRA at the Water and Environment Group I have developed a platform for real-time growth analysis of anaerobic microorganisms. Through a collaboration with biomedical engineers we have explored the use of microfluidic devices within this system for the analysis of single cells. We can use this platform to understand the complex cell-cell interactions of the species responsible for methane production in order to improve the process at the macro-scale. This represents a step change in lab-based methodologies for these difficult to grow microorganisms. I have been recently been awarded a small internal grant (£1367) to explore a salt-tolerant methanogenic species for saline remediation.
Asian Institute of Technology collaboration
At the University of Glasgow I am involved in a collaboration with the Asian Institute of Technology. This work looks to understand the microbiome of decentralised waste treatment systems.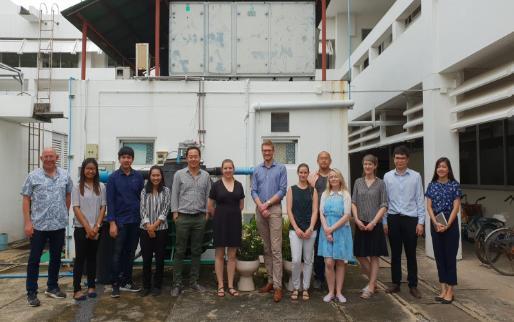 Grants
Principle Investigator: John Roberston Bequest (£1,367)
"
Characterisation of salt stress tolerance in
Methanospirillum hungatei
; an important microbe in sewage degradation."
Additional information
Websites
ResearchGate
https://www.researchgate.net/profile/Ciara_Keating
LinkedIn
https://uk.linkedin.com/in/ciara-keating-39976424
ORCID
https://orcid.org/0000-0001-9199-3068
Publons
https://publons.com/researcher/2943154/ciara-keating