British Society of Rheology Winter Meeting 2015: Microrheology and Microfluidics
‌‌14th and 15th December 2015‌, Wolfson Medical Building: Yudowitz Room, University of Glasgow

Microrheo‌logy & Microfluidics are two closely connected and emerging fields of research. The difference in emphasis that ‌separates them is the prior knowledge of the fluid's rheological properties. The meeting will embrace two mini-symposiums on Microrheology and Microfluidics, with the aim of encouraging collaboration between the two streams of research.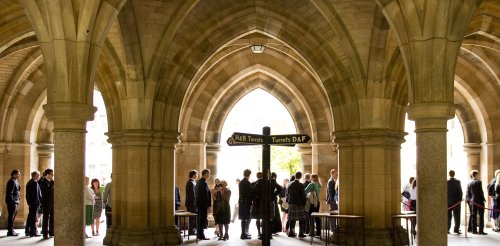 Sponsors;
Confirmed Keynote Speakers;
Confirmed Invited Speakers
‌‌

Dr ‌Mathias Reufer

LS Instruments AG

‌Dr Thomas Waigh

University of Manchester

Dr R Mike L Evans

University of Leeds

Dr Michele Zagnoni

University of Strathclyde

‌Dr Mark Haw

University of Strathclyde

‌Dr John Duffy

Malvern Instruments

‌Dr Mónica Oliveira

University of Strathclyde

‌Professor Thomas Franke

University of Glasgow
Programme
The provisional programme is shown below.
The full programme will be available at a later stage.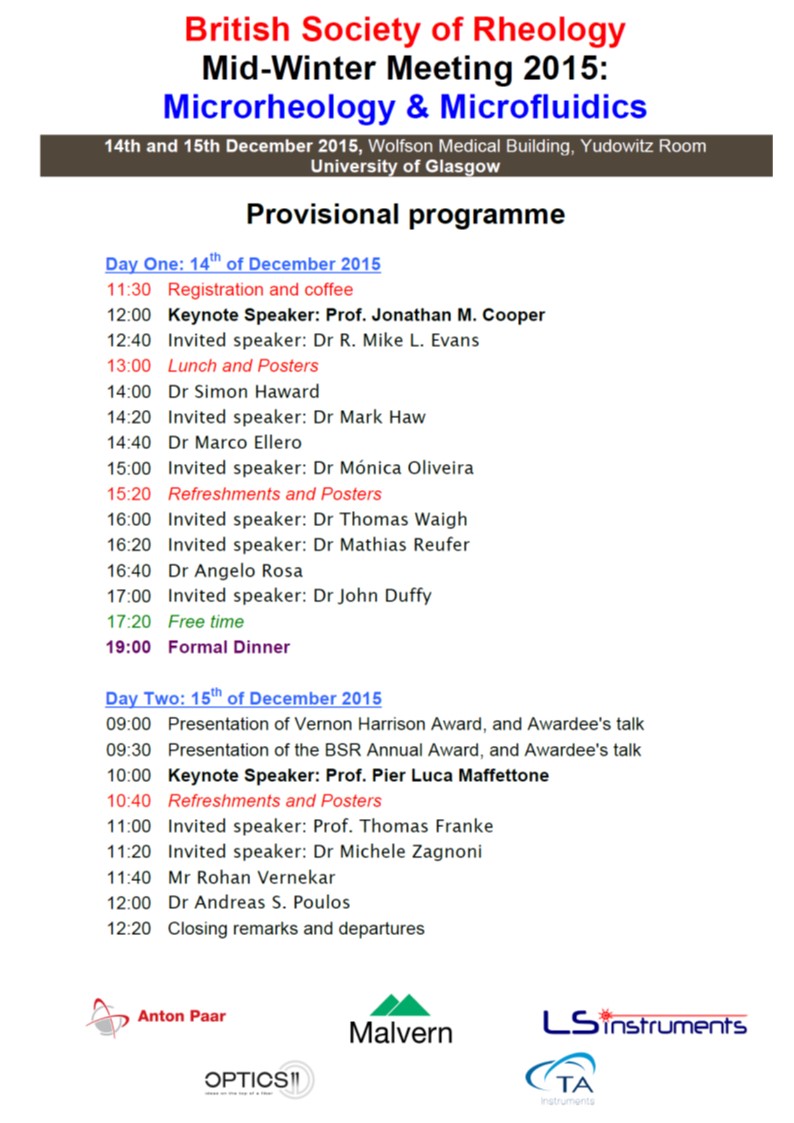 Registration
‌‌To attend the meeting please register and pay in full at the BSR website before the 3rdof November. The registration fees are set out below.
| | | |
| --- | --- | --- |
| | Before 3rd November | After 3rd November |
| Student | £80 | £100 |
| BSR member | £100 | £120 |
| non-member | £120 | £140 |
The registration fee includes lunch and coffee on the 14th and 15th December and a conference dinner on the evening of the 14th.
Abstract Submission
Abstract submission is now closed.
| | | |
| --- | --- | --- |
| | The British Society of Rheology will award a prize of £350 for the best poster presented, sponsored by TA Instruments. | |
‌
Travel and Accomodation
The University of Glasgow is situated in the west end of the city of Glasgow and is easily accessed by the SPT underground.
Directions to the University of Glasgow.
The meeting will be held in the Wolfson Medical Building: Yudowitz Room which can be located as C8 on the campus map.
Hotels and B&B can be found in and around Glasgow.
Below is a map of the different locations involved in the conference programme.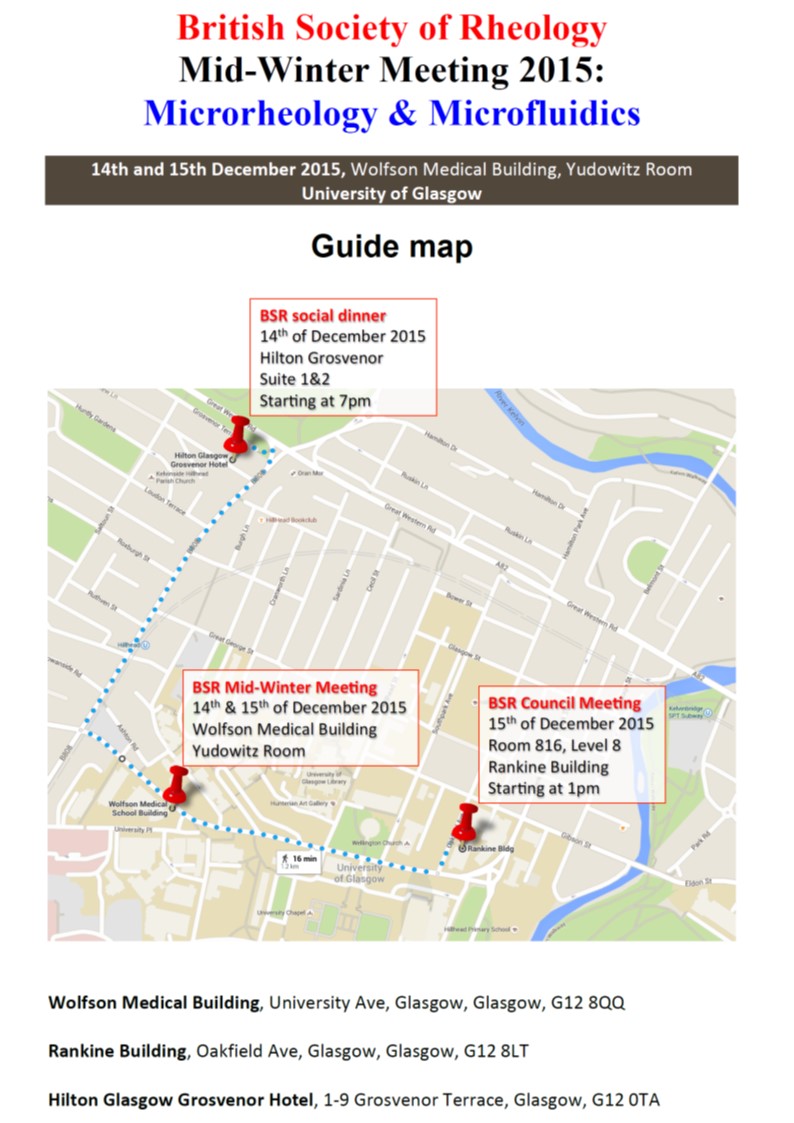 Technical Committee
Dr Nick Hudson, University of Strathclyde.