Careerwise Intern's experience of conducting her Internship at the School of Engineering
Careerwise is a placement scheme for women studying STEM at Scottish Higher Education Institutions.
Karen Irvine joined the School of Engineering for 8 weeks in 2018 on a Careerwise Internship.
She talks about her experiences in this blog post: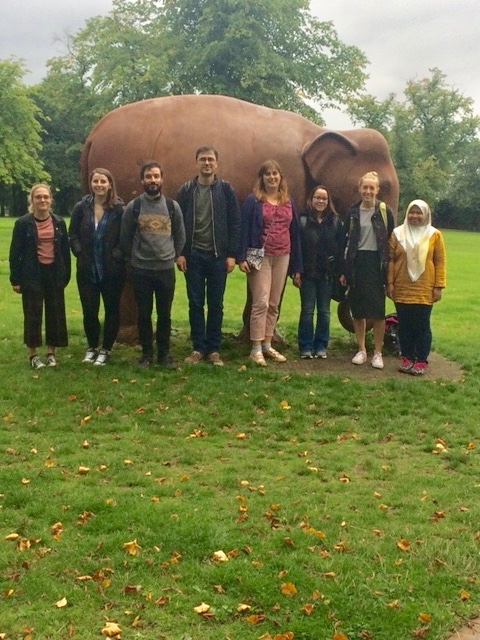 I have spent eight weeks on a Careerwise placement in the Department of Infrastructure and Environmental Engineering at the University of Glasgow. Careerwise placements are available to female undergraduate students studying STEM subjects in Scotland. This scheme offers both industrial and academic placements and having just completed my third year of a MEng Chemical Engineering at the University of Strathclyde, the opportunity to gain work experience was very appealing to me.
As an undergraduate chemical engineer, sustainability and environmental impact are aspects of the industry which I have been interested to expand my knowledge in. The opportunity to work in part of a multidisciplinary team in an engineering research environment which focuses on remediation of contaminated wastewater has therefore been very beneficial to me.
During my first week of placement, I was very fortunate to be invited to attend a conference at the University of Glasgow. The conference entitled "PLA2MA: PLAsma and PLAsmon for Monitoring and Abatement of Emerging Contaminants in Water Systems" welcomed delegates from organisations such as research institutions, Scottish Environmental Protection Agency and the NHS. Since I have never attended a conference before, I was very interested to hear the concerns and the potential solutions the delegates came up with. I look forward to hearing about the progress these delegates make in the future of environmental engineering.
I have also had the opportunity to follow PhD student, Kate Fell, as she begins her preliminary research in the Department of Environmental Engineering. Kate is focusing her work on finding a non-targeted method for identifying emerging pharmaceutical contaminants in hospital wastewater. I had not previously considered the environmental and human impact due to lack of remediation in waste water. It is exciting to think more research in departments such as this one will lead to more regulations. But also, more of a challenge for chemical engineers!
Day to day life in the lab consists of making up samples, applying methods, running experiments and analysis of the results. What I have found interesting is the link between analytical chemistry and the molecular level engineering we are taught at university. For example, while setting up a method for the GC-MS, the solvent delay must be considered depending on the molecular weight and therefore the mass transfer inside the column.
I would recommend other female students to apply for the Careerwise placements to gain a hands-on experience in their related fields. This placement has helped me to grow my academic network which could lead to more opportunities in the future. Additionally, research had never been something I had considered as a career path until now. Working as part of this team has also improved my appreciation for the work others do for us and the environment. On the whole, it has been a very enjoyable and worthwhile experience. I look forward to using the knowledge and skills I have gained in my future career.
---
First published: 25 February 2019