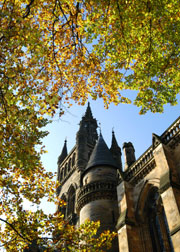 ‌
Welcome to the Glasgow University Laboratory of Phonetics!
GULP is a research and teaching laboratory. The facilities support teaching for Honours (third and fourth year) undergraduate students, as well as Masters and Doctoral students, but staff and research fellows also benefit. English Language is a recognized outlet for ESRC-funded postgraduate students; more information about postgraduate opportunities is given here. Research in the lab covers a range of intersecting fields:
Speech production (Scottish English, including clinical aspects [with

QMU

Edinburgh], urban Scots, Glaswegian, ethnic accents, Glaswasian, British minority ethnic languages, e.g. Panjabi, Scottish Gaelic)
Speech perception (word segmentation, perception of regional accents and individual speakers, perceptual learning, cross-modal perception eg. synaesthesia)
Prosody (timing of regional accents, intonation, speech and music, segmental-prosodic interactions)
A strong theme across our work is the interest in social and psychological factors and how they relate to phonetics, for example, social/regional/ethnic accents, socially-stratified articulatory (ultrasound) data (with QMU Edinburgh), representation of accents in the media, influence of the broadcast media on spoken language, style in call centre speech, social priming of speech perception, exemplar memory, synaesthesia and minority languages. We work with speech elicited in different ways, within and outwith the lab.
Members of the lab have access to private spoken corpora of dialects of Scottish English, which can be explored using ONZEMiner. You can find out more about members' specific research interests at their webpages. A number of projects are also running from the lab: Seeing the Links in the Speaker-Hearer Chain: An investigation of the transmission of articulatory variation using Ultrasound Tongue Imaging; An online Ultrasound Tongue Imaging resource for Phonetics, Linguistics, and Speech Therapy teaching at Scottish Universities; Timing in Accents of English; Investigating British ethnic accents - Glaswasian; Phonological learning from interactive mediated speech; Perceptual learning about word boundaries in different voices and accents; Is TV a contributory factor in accent change in adolescents?; Accent Change in Glaswegian.Staff and students in the lab work collaboratively with each other, with other members of English Language, with colleagues in Celtic and Gaelic, and also beyond the College of Arts, with Psychology and Sociology and Urban Studies.
We also have active research collaborations with colleagues nationally and internationally, at: Acapela group Belgium, Aix-en-Provence, Auckland, Bamburg, Berkeley, Bradford, Cambridge, City University London, Copenhagen, Debrecen, Edinburgh, Hamburg, Hannover, Haskins Laboratories, Kagoshima, Munich, Newcastle, Nijmegen, Oulu, Queen Margaret University Edinburgh, Sheffield, University College London, York.
GULP also has space to accommodate visiting phoneticians - in the past couple of years we have been visited by colleagues from: City University London, Canterbury/ChristChurch, Edinburgh, Hannover, Kagoshima, Manchester, New York University, Nijmegen, Paris/Lyon, Toulouse, York.
Members meet in the lab for 'lab lunch' on Tuesdays at 1pm, where we discuss ongoing research, specific issues in phonetics, and/or listen to visitors discussing recent work in progress. If you would like to present any work to us informally, then please get in touch with either Jane Stuart-Smith or Rachel Smith (unfortunately we can't offer expenses, but there is sometimes cake...).
History
The Glasgow University Laboratory of Phonetics has been gradually expanding since Phonetics was taken into the Department of English Language in the late 1970s. Thanks to Mike MacMahon, high-quality recording and analysing equipment were preserved, maintained, and expanded, albeit in a small sound-proofed room in 12 University Gardens. During the late 1990s, with the arrival of another phonetician (Jane Stuart-Smith), lab space was further expanded to 6 workstations, and physically moved to Number 6 University Gardens. A few years later, with more students and project researchers, the Phonetics Laboratory was upgraded, and has recently been once again been refitted and moved to its current home on the first floor of 13 University Gardens. Rachel Smith's arrival prompted the construction of a high-specification noise-attenuated Sound Studio back in number 12. As a result, GULP has the facilities to record and analyse speech production and perception data collected in the laboratory and the field.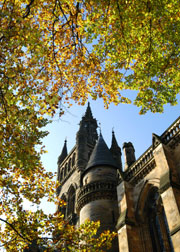 ‌