How it Works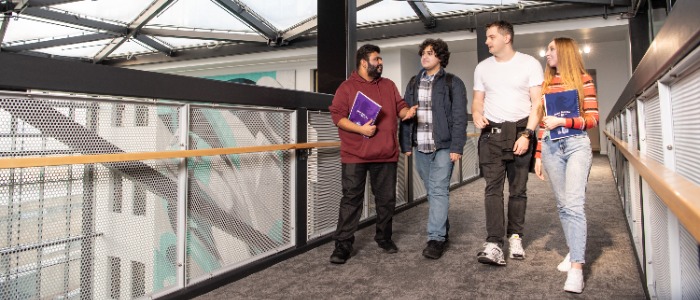 Our fully funded Graduate Apprenticeship (GA) Degree in Software Engineering provides employers with the opportunity to recruit new talent or upskill the existing workforce. It is a fantastic opportunity for school and college leavers or job changers. Even if you already have an existing degree you may still be able to apply for a fully funded place on the GA.
Key features:​
Employers recruit apprentices directly (UCAS not affected)

​

Apprentices achieve a BSc in Software Engineering in 4 years

​

Programme structure: 20% study; 80% work-based learning

Entry requirement: Adjusted entry criteria to recognise alternative learning routes

​

Student fees are fully funded by the Scottish Funding Council (SFC) via SAAS
​The valuable work-based learning is combined with our bespoke intensive foundational course taught in blocks at the university over the first 18 months, ensuring:​
the apprentices have a strong university experience

​ with a dedicated teaching team, full student support and the benefit of learning within their GA peer group in the first two years

fast tracking of the apprentices' skills and learning, creating work-ready apprentices from an early stage in the programme

​

In years three and four of the programme apprentices can opt to specialise in

Data Science

,

Cyber Security

, or

Systems Engineering

which is delivered through a day release programme during term time.

​​
"Our apprentices are enjoying the opportunity to use their skills in a live environment. They are a real asset to SLC and are impressing colleagues with their ability to problem solve and bring fresh ideas to the team." Stacey Wylie SLC
​Find out more contact: Anna in the GA Team at anna.doyle@glasgow.ac.uk
Employing a Graduate Apprentice
​
Any company of any size can benefit from the GA scheme if they have an operation in Scotland and commit to providing:​
a contract of employment for the apprentice, committing to the 4-year programme and in line with standard employee rights and benefits

​

A full time salary*

A software development function

​

A supportive learning environment with a dedicated mentor

​

Share the university's commitment to equality and diversity in your workplace

​
* More guidance on salary can be found on apprenticeships.scot and Delivering for Scotland Government website. SFC Guidance notes: employers should pay a salary commensurate with the job role and in adherence to National Minimum Wage legislation. This is applicable for the duration of the GA programme
Who can apply to be a Graduate Apprentice?​
Anyone aged 16 and over with a right to live and work in the UK, and domiciled in Scotland by the time they commence their apprenticeship​ can apply.

Please refer to SAAS guidance to make sure you are eligible for funding
Applicants need to meet our academic requirements (see below) along with employer's selection criteria​
If you are an employer wishing to register an existing team member onto the programme or explore recruiting new talent, OR a potential GA candidate, please contact Anna on the GA Team at anna.doyle@glasgow.ac.uk to find out more.
ENTRY REQUIREMENTS
The standard entry requirements match the undergraduate degree programme however we can flex to take into consideration alternative learning routes:
HIGHERS: BBBB or above achieved by S6. Must include Maths and ideally two Science subjects.
A-LEVELS: BBB or above. Must include Maths and at least one Science subject.
HNC/D: B achieved in Computing, Software Development, or Computer Games Development. All MUST include Mathematics: Calculus and Matrices for Computing or have Higher Maths at B or above.
There are also routes through the Modern Apprenticeship (with Highers), the International Baccalaureate or international qualifications.
More information about the course entry requirements can be found on the degree programme page.
The role of the University of Glasgow
The university provides:
Delivery of the BSc Software Engineering degree through on-campus learning and a collaborative online workbook

​

A flexible degree programme with options to specialise in Data Science, Systems Engineering or Cyber Security

​

Pastoral care for graduate apprentices

Flexible Summer Schools in Programming and Mathematics​

Bespoke employer support from our academic and business team

​

Year-round marketing activities to promote GA's to prospective students to drive high quality applicants to your vacancies

​

Tailored training for GA mentors and ongoing CPD support

​

Completion of all SDS paperwork to enrol your Graduate Apprentice on the programme

​​
Programme Structure
Structure​
In years 1 and 2 course content is delivered on campus in intensive 8 week learning blocks (Nov-Dec and Mar-Apr), as an inclusive cohort, sandwiched between extended periods in the workplace. ​
In years 3 and 4 on campus learning switches to a day release model with classes taken alongside honours students from our traditional degree programmes.​
Throughout the 4 years all learning is supported through our interactive online workbook shared with apprentices and their employers.​
Over the course of 4 years apprentices spend c. 80% of their time with their employer and c. 20% with the university.​
For a full breakdown of the programme delivery model, see the programme structure page.
Programme Content
Years 1 and 2

​

Year 1 covers: the skills and tools required for you to quickly pick up whichever language is most prominent in your workplace; the fundamentals of professional software development; testing fundamentals; web applications systems; and low level architecture. ​

Year 2 covers: data storage; HCI; practical algorithms followed by systems and underlying algorithmic content; systems programming; user interaction; data science; and a further course on professional software engineering. It will also include a significant team working component. ​
​
Years 3 & 4

​

In consultation with their employer, GA's can select from the school's full programme of electives or specialise in:​
Data Science

​

Systems Engineering

​

Cyber Security

​
Find out more about the Software Engineering GA 4-year course content
2022 Course Dates
Please contact Anna on the GA Team at anna.doyle@glasgow.ac.uk for the latest update on 2022 course dates. First years typically start late October. Summer School takes place in August and September.​
Planning your apprentice's time off
There are a few timeslots throughout the calendar year where the university does not require the students to be undertaking work-based learning. Typically, these times fall around Christmas and the end of summer and apprentices would ideally take their holidays from the workplace in these periods. Dates within the work-based learning periods can be taken as holidays with employer approval, but students would be expected to catch up with their learning workload in their own time.
We ask that apprentices do not take annual leave during university time due to the intensive learning schedule.