The Singapore Institute of Technology
The Singapore Institute of Technology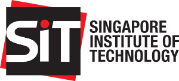 ‌The School of Computing Science entered into partnership with Singapore Institute of Technology (SIT) to deliver its BSc (Honours) Computing Science degree programme commencing in September 2013 on the campus of Republic Polytechnic.
This in-country collaborative programme is intended for students with good grades in an appropriate diploma from one of the polytechnics in Singapore and offers a route to upgrade diploma qualifications to an Honours degree with a further two years study, mainly in Singapore. A feature of the programme is a four-week visit to Glasgow in the summer between the two years where the students will be introduced to Scottish culture and undertake a professional skills & issues course.
As an institution initiated by the Ministry of Education, SIT continues to add new degree programmes to offer polytechnic graduates more upgrading opportunities with industry-focused degrees in growth sectors of the economy. SIT keeps close consultation with government agencies, polytechnics and industry partners to ensure that the degree programmes and overseas universities selected have a high reputation in their respective fields.
Find out more on our Singapore web site.