University of Florida, USA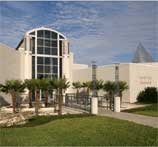 University of Florida, USA
Internship and Study Opportunities for postgraduate students at The Harn Museum of Art, the University of Florida, Gainesville campus, Florida.
There are exchange opportunities available, between students currently registered on MLitt programmes in History of Art (Glasgow) and those registered on the MA Program in Museum Studies and MA/PhD Program in Art History (Florida).
Students will opt for between 3 and 6 months exchange during Semester 2. This can include the summer, when dissertation research or work placement is being undertaken.
The opportunities offered by joining the Florida MA programme include a full-range of art historical periods and areas: Ancient, Medieval, Renaissance/Baroque, Modern, and Non-Western with particular strength in Africa and Latin America.
The Museum Studies programme offers critical and theoretical approaches in Museology and Exhibition and Display as well as practical training in Registration and Collection Management, Education, Museum Ethics and Museum Management. Other options include Historic Preservation and an 8-10 week Internship in a museum or gallery.
The University of Florida's Samuel P. Harn Museum of Art, opened in 1990 and with particular strengths in Photography, Modern and Contemporary American, African, Asian, and Pre-Columbian art, offers further opportunities for students to obtain professional experience in gallery work and collections research within one of the largest and best equipped university art museums in the United States.
For more information contact Debbie Lewer, the Erasmus/Study Abroad co-ordinator.
‌