Professorial exchange with the Smithsonian Institute / George Mason University
Professorial exchange with the Smithsonian Institute / George Mason University
Issued: Fri, 06 Jun 2014 13:51:00 BST
Professor Nick Pearce, Sir John Richmond Chair of Fine Art and Head of the School of Culture & Creative Arts delivered a two-week intensive course for History of Decorative Arts MA students on Chinese ceramics in March 2014. Additionally, Professor Pearce presented special lectures for Smithsonian Associate members and the Friends of the Freer and Sackler Galleries.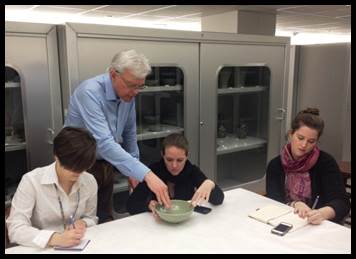 Nick leading object handling session in Freer/Sackler ceramics storage.
(Left to right: Lauren Zook, Nick, Julia Robinson, Carley Altenburger)
Cecilia Anderson, textile historian and faculty member of the Smithsonian-Mason MA in the History of Decorative Arts, completed a two-week faculty exchange with the School of Culture and Creative Arts in March 2014. While in Scotland, Cecilia consulted with numerous Glasgow faculty members and textile colleagues in Glasgow and Edinburgh museums including Stirling Castle, National Museums of Scotland, the Burrell Collection, Holyrood House, and more. Of particular significance was the time Cecilia spent with colleagues at University of Glasgow's renowned Centre for Textile Conservation and Technical Art History. Hers is the first of a continuing exchange between the program and University of Glasgow.
---