The Smithsonian Associates in Partnership with George Mason University
The Smithsonian Associates in Partnership with George Mason University
The School of Culture & Creative Arts at the University of Glasgow has signed a collaborative agreement with the Smithsonian Institution, Washington, D.C., and George Mason University to promote staff and student exchanges, placement opportunities and research collaboration.
This partnership will allow students registered on any of Glasgow's History of Art taught and research postgraduate programmes to apply to study on the programmes offered in Washington for the second semester and also take advantage of a placement/dissertation research opportunity in one of the partner's associated museums and galleries.
Washington will be of interest to those students wishing to study aspects of the history of the decorative arts and wish to have a placement in one of the 19 museums and galleries which form a part of the Smithsonian.
For further information, contact Dr Debbie Lewer.
Summer School
History of Art runs a Summer School based in Glasgow for the Smithsonian-Mason MA in the History of Decorative Arts. Students from across America take part in a series of courses designed to enhance their studies.
Courses running for the summer of 2013 are:
June 24-July 5
'Gothic and the Gothic Revival' examines the Scottish Gothic style, from its medieval origins to its late 18th-and 19th-century antiquarian rediscovery by Gothic Revivalists, including Sir Walter Scott and A.W.N. Pugin. Run by Dr Debra Strickland, this two-week programme will explore the design and architecture of this iconic style through visits to venues such as Rosslyn Chapel and Glasgow Cathedral. These tours will be supplemented by lectures in School and visits to museums, archives and special collections across Glasgow.
July 8-19
The 'Treasure Houses of Scotland', which showcases some of Scotland's most significant art and architecture. Run by Dr Hilary Macartney, this two-week programme explores the architecture, design and social history of the eighteenth- and nineteenth-century historic house in Scotland within the context of history of taste and collecting, and is structured around expert-led study visits to key Scottish stately homes and country houses, visits to Glasgow's museum collections, and lectures in School.
These courses lead on from our initial two years of successful Summer School courses run by History of Art for the Smithsonian-Corcoran College of Art + Design MA in the 'Mackintosh and the Glasgow Style' and 'Gothic to Gothic Revival'. Last year saw History of Art doing a back to back offering of the 'Treasure Houses of Scotland' course for the Smithsonian-Mason MA in the History of Decorative Arts.
More information on the Smithsonian Associates' MA in the History of Decorative Arts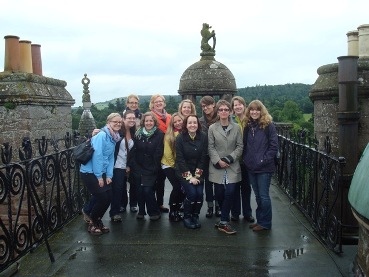 Students and staff on the roof of Glamis Castle, July 2012
Fri, 06 Jun 2014 13:51:00 BST