AOP ECR Webinar Event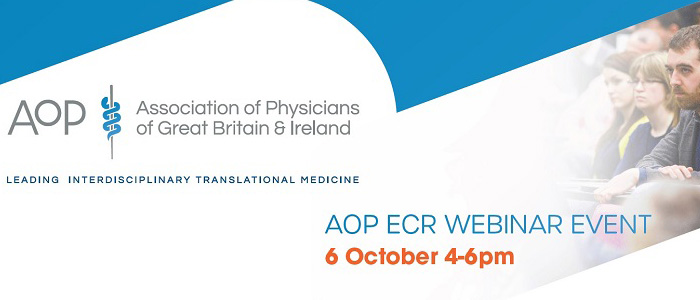 The AOP ECR webinar event will be held on the 6th October between 4pm and 6pm on Zoom.
This webinar is aimed at supporting early career clinical researchers at all levels. All clinicians are welcome to join, from those considering a period of research during training to new PIs looking for advice and developing independence.
The chairs of the event will be Dr Emily Watts and Professor Christian Delles. The speakers will include Professor Sara Brown, Dr James Lee, Dr Angela Lucas-Herald, Professor John Simpson, Dr Caroline Watson, Professor Matthew Walters and Professor Sarah Walmsley.
The sessions will include:
Splitting your time and focus - how to succeed in both clinical and academic worlds
Clinical academic career pathways - strategies for resilience and flexibility
Breakout rooms will allow more in-depth discussion, relative to your career stage with sessions including:
Why and how to do a PhD and routes to funding
Preparing for OOP research
How to write a fellowship proposal
Tips to get your through the post Phd period
Supervising others - who, how and when?
Establishing independence as a clinician scientist
You can sign up for the event here.
---
First published: 30 September 2022