Dr Terry Quinn (SCMH) and others helped develop an app
SCMH researcher wins follow on funding to support medical app development
Problems with vision are some of the most common complications of stroke disease. In response to this, and with funding from Scottish Government, Dr Terry Quinn (SCMH) and others helped develop an app for screening vision problems in stroke survivors – Stroke Vision.
Stroke-Vision is now registered as a Class I medical device and is being used on the wards. The value and importance of the prototype app has been recognised nationally, and Stroke-Vision was a finalist in the Scottish Healthcare Awards and winner of the Greater Glasgow and Clyde Chairman's award.
Since Stroke-Vision was created, clinical practice and the needs of the end-users have changed. To allow further development Terry has been awarded £20K from the Dr Rhona Reid Charitable Trust. This support will be used to work with the Medical Devices Unit to further improve the functionality of the app. This work is even more important now, as the social distancing mandated by the pandemic makes traditional face to face assessment more difficult.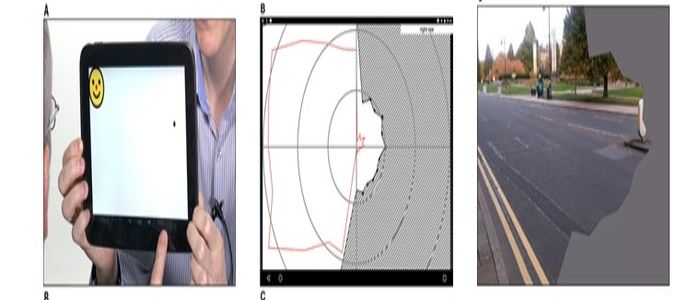 Examples of the Stroke-Vision app. The first image shows the interactive visual field testing. The second image shows the clinical read-out from the testing. The third image shows how the app's stroke simulator can take this information and offer a real time display of how the stroke survivor sees their environment.
---
First published: 30 November 2021