Congratulations to Sarah Nichol on winning the BIHS Sir Stanley Peart Essay Prize 2021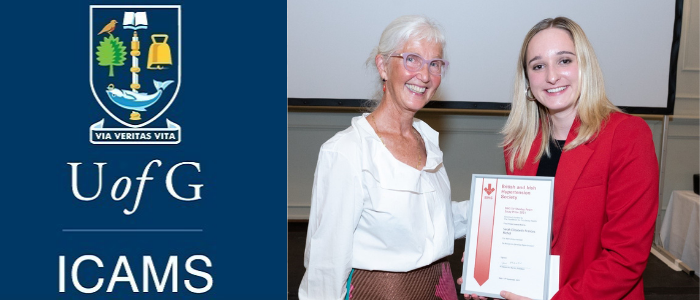 I am delighted to be the recipient of the Sir Stanley Peart Essay Prize 2021 awarded by the British and Irish Hypertension Society (BIHS). The task this year was to explain the observations of an epidemiological paper showing that throughout adult life blood pressure levels in Canada are substantially lower than in England.
The structure of my essay, titled "Do holograms develop hypertension?", was written in the form of a play, a great debate between empiricists and rationalists. It featured the likes of David Hume and René Descartes, as well as George Pickering to bring in a true scientific mind when philosophical debating got too heated. With no solid foundation in philosophy, it was extremely enjoyable to learn about these thinkers and explore an alternative approach to scientific writing.
I was lucky enough to travel down to Brighton for this year's BIHS Annual Scientific Meeting to be presented the prize by Sir Stanley Peart's daughter. The programme was plentiful of world class research, and I was very grateful for the opportunity to meet many important investigators in the field hypertension and clinical pharmacology.
I would like to thank Professor Sandosh Padmanabhan, my academic supervisor, and his team for their help and encouragement to enter the competition. I am very excited to continue to be a member of his team as I start my journey on the academic foundation programme, contributing to research alongside my duties as a junior doctor.
---
First published: 26 October 2021