SCMH hosted a visit by newly elected Members of the Scottish Parliament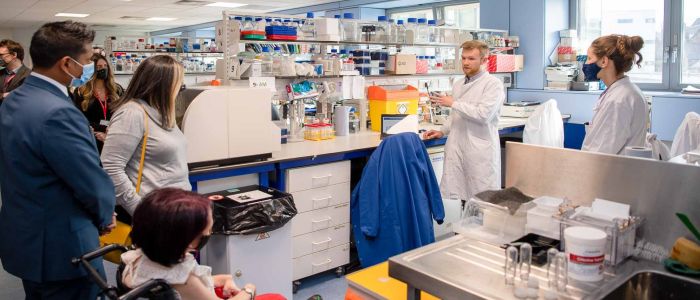 On 25th February 2022 SCMH hosted a visit by newly elected Memvbrs of the Scottish Parliament from Glasgow who have a particular interest in health. The visit has been arranged in conjunction with the British Heart Foundation Scotland as part of an initiative that highlights the contribution of charities to education and research in Scotland. SCMH was delighted to welcome Kaukab Stewart MSP, Sandesh Gulhane MSP and Pam Duncan-Glancy MSP. SCMH senior staff including Prof. Eleanor Davies, Prof. Christian Delles, Dr Josie Fullerton, Prof. James Leiper, Prof. John McMurray and Prof. Godfrey Smith presented on cardiovascular diseases in Scotland.
The visitors enjoyed a lab tour and short presentations by Gabriela Gerganova, Dr Eilidh MacDonald, Corey McAleese and Dr Richard McFarlane. BHF Scotland colleagues Mr Jonathan Roden, Ms Emma Young and Ms Kym Kestellalso attended the visit and contributed to the discussions.
---
First published: 17 May 2022