Save the date for ICAMS 2022 Away Day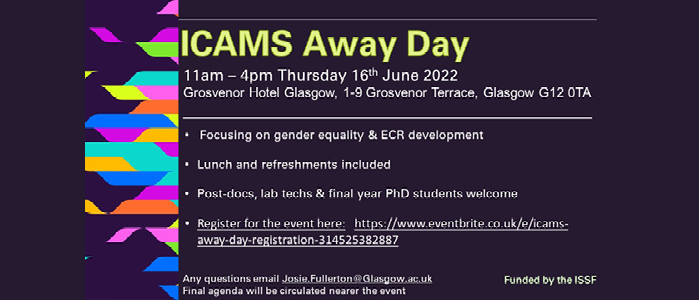 The ICAMS 2022 Away Day is on Thursday 16th June 2022 at the Grosvenor Hotel. This year the event is funded by the Institutional Strategic Support Fund (ISSF). The event will start at 11am and finish at 4pm.
This years event will be focusing on gender equality and ECR Development. With inspiring speakers include Yvonne Couch from the University of Oxford and Ian Harrison from University College London. At the event their will be Lunch and Refreshments included.
The event is open to Post-Docs, Lab Techs, and final year PHD students. Final agenda will be circled nearer the time.
Register for the event here: https://www.eventbrite.co.uk/e/icams-away-day-registration-314525382887
For any questions please email Josie.Fullerton@Glasgow.ac.uk.
---
First published: 20 April 2022