Graham Wilson Travelling Scholarship 2022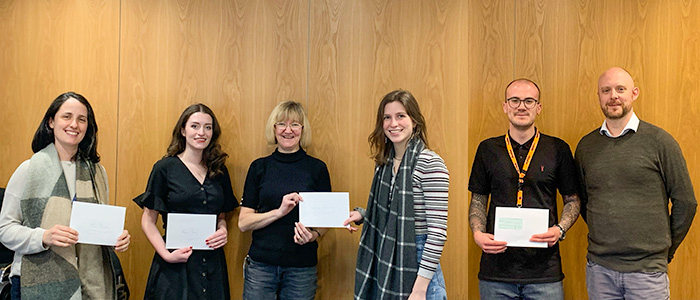 From left to right Dr. Josie Fullerton, Rebecca Rooney, Dr Delyth Graham, Laura Gonzalez Trueba, Jack Beazer and Dr Paul Welsh.
This fund was established to honour the memory of the late Professor Graham Wilson. The fund is held by the Greater Glasgow and Clyde NHS Endowment Funds Office and offers support to junior members of staff and students who wish to visit a centre in the UK or abroad to learn specific clinical or research techniques, particularly those transferable to Glasgow. Professor Wilson's principal interests were in clinical pharmacology, hypertension, endocrinology/metabolism, gastroenterology and medical education. More than one scholarship is available each year, each having a maximum value of around £1,000.
Our usual Springtime Graham Wilson Scholarship presentation day, where awardees from the previous year have an opportunity to meet Professor Wilson's family and present the outcomes of their travel, was postponed until later in the year due to COVID-19 health and safety restrictions. However, the successful applicants of the 2022-2023 Graham Wilson Travel Scholarship were presented with their cheques in April to allow them to travel to their intended destinations. Many congratulations to this year's recipients. We look forward to hearing about their research and travel experiences later in the year.
Applications are requested once a year and should be made on a standard proforma available from Dorothy Ronney, School of Cardiovascular and Metabolic Health, (telephone : 0141 330 2397 / email: Dorothy.Ronney@glasgow.ac.uk). Applications usually open November/December with a closing date by January each year.
---
First published: 14 April 2022