MVLS Engagement Team Updates – May 2022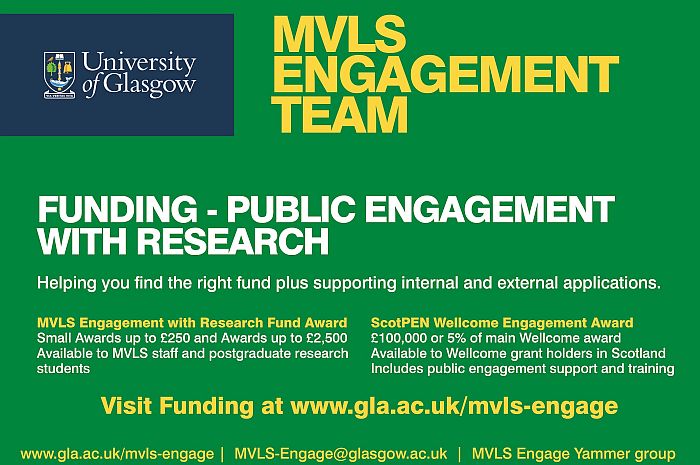 News
Pint of Science 9 – 11 May 2022
Pint of Science is now Live at venues across Glasgow until Wednesday 11 May. Grab a drink and book in to support our researchers.
Glasgow Science Festival 2022: Glasgow's Making Waves- 02-12 June
This summer's festival programme has been launched – browse the fabulous array of wave-themed events, activities, and talks. Most are free with both in-person and online Science on the sofa activities.
Public Engagement Events & Opportunities
ARCadia Launch Festival - Call for Events - Deadline 31 May 2022.
The Advanced Research Centre (ARC) Launch programme will run from 16 - 30 September 2022 and will celebrate the public opening of our flagship new building. The deadline for event applications to support Arcadia is 31 May 2022. MVLS engagement team would be happy to discuss or support any applications.
'What makes viruses tick?'
Support our exciting new project with your tick sighting information. Led by the Brennan Lab at the MRC-University of Glasgow Centre for Virus Research, 'this community engagement project aims to raise awareness of ticks and tick-borne diseases across Scotland.
If you, someone you know, or your pet has been bitten by tick, help our researchers by heading over to this website to submit your sightings.
Training - Resources
PPIE new website
Our MVLS Patient and Public Involvement and Engagement (PPIE) group has produced a new website offering some exciting new online resources for all those interested in this exciting area of engagement.
SWEA Online Training Sessions - 7 June 2022
Going Back to In-person Events, 7th June 2022 at 1000-1200hrs - Online session
This FREE online digital interactive workshop aims to inform researchers and academics about what they need to consider before re-engaging with communities in person. The information in this workshop will be largely based on Aberdeen Science Centre's experiences before, through, and after the pandemic.
ScotPEN Annual Gathering - 27 June 2022
UofG is hosting this FREE annual event for ScotPEN public engagement professionals at the ARC, and the in person day will feature sessions dedicated to skills development, networking, and sharing of good practice.
We would be delighted to welcome all members of our UofG public engagement community but if you are not currently aware of ScotPEN, and uncertain if this event is for you, please feel free to get in touch with the MVLS Engagement Team - MVLS-Engage@glasgow.ac.uk
Please register your interest in attending: ScotPEN Annual Gathering 2022
Funding
Glasgow Knowledge Exchange (GKE) Fund
Reminder that applications to the GKE Flexible Fund, with awards between £2,000-£30,000 has a deadline 11am on Wednesday 1 June 2022.
The GKE Small Grants Fund, with awards up to £2,000 – is open to applications at any time and reviewed at the end of the month in which they are submitted.
The MVLS Engagement team are always happy to discuss any public engagement funding applications.
MVLS Engagement with Research Fund
Offering flexible awards (up to £2500) to all MVLS staff and postgraduate research students, in support of research-related public engagement activity and skills development. We are happy to work with researchers to develop engagement applications to this - and any fund.  Applications are welcome at any time when the fund is open with a 10 day decision period .The Fund is open to applications until 28 June 2022
MVLS Engagement Team
College of Medical, Veterinary and Life Sciences
University of Glasgow
Email: MVLS-Engage@glasgow.ac.uk
---
First published: 18 May 2021