New research study reduces diagnostic wait time for people with suspected heart failure
NHS Greater Glasgow and Clyde, The West of Scotland Innovation Hub and the University of Glasgow are collaborating on a new study aimed at reducing the wait time for people with suspected heart failure to undergo vital diagnostic tests, in a timely and equitable manner. The study is sponsored by NHSGGC.
The study has utilised the NHS Louisa Jordan and was designed to improve access to heart failure diagnostic services, using innovative digital and artificial intelligence techniques.
More than 400 people, referred from the community for investigation of suspected heart failure, have consented to taking part in the study since January 2021, undergoing tests including a heart tracing (ECG), blood-based biomarkers (NT-proBNP) and ultrasound heart scan (Echocardiogram).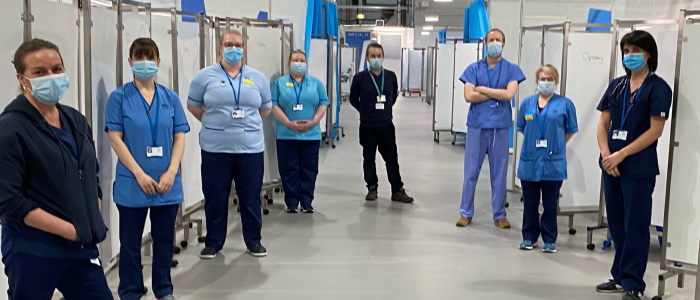 "We have been able to rapidly reduce the COVID-related backlog in NHSGGC for people awaiting heart failure diagnostic tests", said Dr Clare Murphy, the lead investigator of the study and a Consultant Cardiologist in NHSGGC.
"Wait times have been reduced from almost 12 months to less than 12 weeks already. This is crucially important because we know that starting heart failure treatment early reduces the risk of hospitalisation for people with this condition, after only one month of therapy.
"I want to thank the operational teams from NHSGGC and NHS Louisa Jordan for all of their help with this study."
The OPERA study is co-funded by AstraZeneca and Roche Diagnostics. It brings together clinical, academic and industry partners and people with lived experience of heart failure, to co-design, co-develop, integrate and validate a new model of care that aims to improve access to heart failure diagnostics in the community.
Dr David Lowe, Joint Clinical Lead of the West of Scotland Innovation Hub, commented: "This is a new way of supporting rapid identification of heart failure patients and providing the tests and care they need, in a much shorter timeframe. The West of Scotland Innovation Hub has been able to support this project and bring together industry and clinicians and is a blueprint of how services can redesign, remobilise and recover following COVID19."
The study is still ongoing and will evaluate the performance of novel artificial intelligence techniques to analyse cardiac ultrasound images combined with blood-based biomarkers, in addition to creating a digital dashboard that will allow heart failure clinicians to review all diagnostic information remotely and provide a comprehensive care plan for patients.
Dr Alexander de Giorgio-Miller, Medical & Scientific Affairs Director at AstraZeneca UK, comments: "One of AstraZeneca's key medical missions in the UK is to eradicate unplanned admissions for heart failure, in partnership with the NHS. Critical to our shared success is the early identification of patients at risk of developing heart failure and intervening with medicines that delay its progression and prevent hospitalisations. AstraZeneca is extremely proud to support OPERA, which has already reduced the time to heart failure diagnosis, reduced variations in care in the region and has the potential to improve the lives of thousands of patients moving forward."
Dr Katriona Brooksbank, Project Manager, University of Glasgow said "With the input of a core group of dedicated nurses and cardiac physiologists, many people have benefited from expert heart failure diagnosis alongside developing a new but simple process which can be employed around the world."
Nick Hartshorne-Evans, speaking on behalf of the Pumping Marvellous Foundation OPERA Patient Advisory Group, commented: "We know the Pandemic has had a severe impact on people who are showing signs and symptoms of heart failure. The backlog of people waiting for a diagnosis is truly unprecedented. OPERA, although on-going, has shown to reduce wait times, which can only be positive. An example of innovation at speed with visible positive outcomes already." – Pumping Marvellous Foundation OPERA Patient Advisory Group.
The West of Scotland Innovation Hub working together to improve health and social care. We support health and social care innovation across the West of Scotland and address key challenges to improve health, social care and service delivery.
---
First published: 25 May 2021